This is an archived article and the information in the article may be outdated. Please look at the time stamp on the story to see when it was last updated.
COLD AND CLOUDY
We can't shake these clouds and the result is the coldest afternoon since Thanksgiving. At 4PM we are still stuck in the mid to upper 20s in most locations.  December (the cloudiest month of the year) is not letting up for any sunshine soon.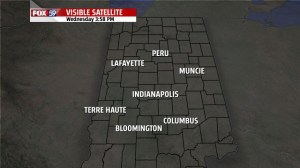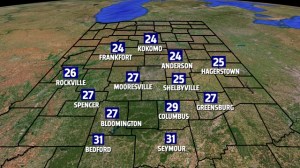 SNOW CHANCES RISE
Clouds stick Thursday with a few snow showers likely. The system is losing strength as it arrives but potentially a few snow showers.
Snow chances are alive and well before Christmas.  A southern system Saturday could swipe the area with light snow from Indianapolis south Saturday.  I'm posting the EURO model image below.  Note the storm is rather far south but it could creep a little north in its track.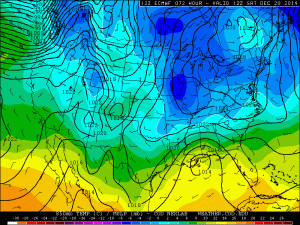 A STORM BREWS FOR CHRISTMAS
A stronger and potentially powerful storms is brewing for Christmas Eve day at this time.  Details on this storm are still to complex as energy resides over the western Pacific ocean tonight.  Storm systems are lining up as an active tropical jet stream carries the energy east to the west coast.  For weeks the polar and subtropical jet stream have been separated or 'split' – a pattern that typically carries seasonal temps with it.
A buckle in the jet stream over the Pacific ocean in the days ahead could set  in motion a more stormy pattern to finish the month.  Eye catching off long-range models, crafting a wind-machine here and in the eastern U.S. next Wednesday morning – a formidable storm system.
The storm could be 'phasing' a process where two jet stream come together creating an explosive surface low pressure system. This offers real headache and travel concerns for Christmas.
Also below the 7 AM weather map forecast from the Euro model.  Note the massive web of pressure lines – fast dropping pressures with the storm will create a massive wind field.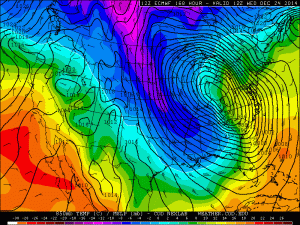 At this distance the storm track is to far out to call where the heaviest of snow will fall.
More details will become available over the next several days – be sure to keep checking back!