This is an archived article and the information in the article may be outdated. Please look at the time stamp on the story to see when it was last updated.
All Tornado Warnings have expired.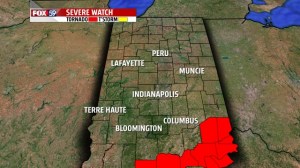 SCATTERED STORMS
A few storms will develop during the heating of the day Tuesday and possible produce some locally strong wind gusts and hail.  The storms will not be widespread – so the NWS Storm Prediction Center will 'not likely' issue a watch.  We will monitor as these storms will reach their peak from 4 PM to 7 PM.
CLEARING TONIGHT
The most recent bout of showers and thunderstorms will diminish after 8 PM with clearing underway for the overnight hours.  It will get chilly early Wednesday morning with lows dropping well into the lower to middle  40s by sunrise.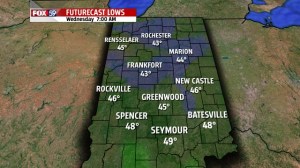 LUNAR ECLIPSE WEDNESDAY
The moon will be full over central Indiana Wednesday morning and timing is perfect for the second lunar eclipse of the of the year.  Starting after 4 AM the moon will move into the earth's shadow turning the moon a copper color.  The so-called blood moon will reach totality before 7 AM.  here is the timeline for Wednesday mornings lunar eclipse.
The moon will first edge into our shadow at 4:16 a.m. EDT
Actual total eclipse will begin at 6:25 a.m
End at 7:24 A.M., almost an hour of totality.