This is an archived article and the information in the article may be outdated. Please look at the time stamp on the story to see when it was last updated.
SEVERE THUNDERSTORM WATCH ISSUED
A severe thunderstorm watch has been issued until 4 AM for a portion of northwest Indiana.  Large hail to 2" and damaging wind gusts to 70 mph are possible.
It  was a beautiful spring day - and it feels more like May!  The average date of the first 70° day is March 18th, we reached the 70° mark again today, the 3rd one of the year!
The amazing run of mild weather reached day 10 today - that's 10 straight days above normal and brings this March and the start to 'spring' as the 6th warmest on record!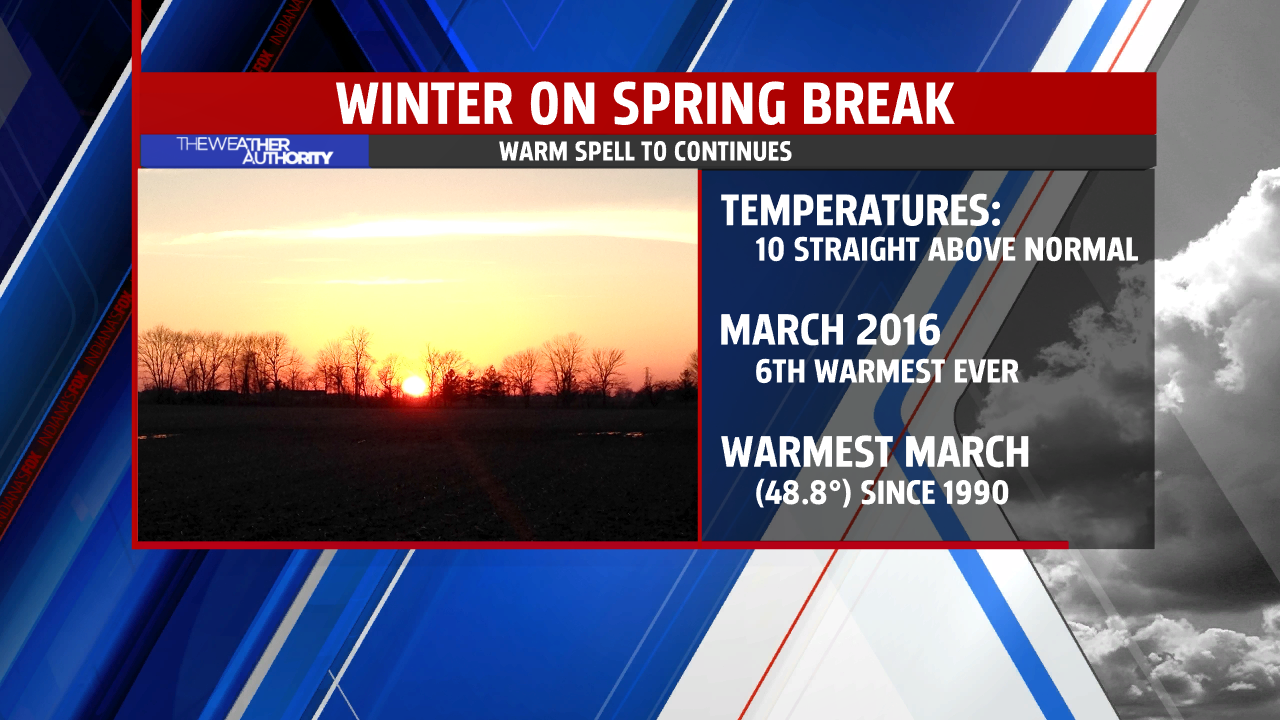 Big changes are in the works. It starts with a cold front that is set to sweep the state late tonight. Thunderstorms - a few of which will become severe are possible west in Illinois this evening. A tornado watch has been issued there until 10 PM CDT
Through 8 pm numerous reports of large hail and a few tornadoes have been reported in far western Illinois.  A tornado was reported just north of Macomb, IL home of Western Illinois University.
The timing here for storm potential will increase around 11 PM. However coverage of the storm may be rather limited. We are monitoring trends. The late night arrival, the storms advancement away from the upper air support and a cold front, could diminish intensity.
I'm posting the hi-res radar forecast for 11 PM tonight. The strongest and most severe storms could enter western/northwest Indiana before 12 AM/ We will keep you up to date for any advisories, watches or warnings.
The storm threat will end quickly from west to east and before 3 AM Wednesday morning. A powerful jet stream will roar over head Wednesday as cooler air moves in . A Wind Advisory has been issued from 8 AM to 8 PM Wednesday. Wind gusts could reach 45 mph at times Wednesday.