This is an archived article and the information in the article may be outdated. Please look at the time stamp on the story to see when it was last updated.
NOVEMBER WARMTH
The average temperature today was once again above normal making this the 56th day since September 1st above normal. Fall 2015 is 6.5° warmer than last year and even more impressive, the November we are having. November 2015 is the warmest in 21 years, 9th warmest to date on record and averaging 16 degrees warmer than last November. That my friends is a set up.
WEEKEND SNOW AND COLD BLAST
Sunshine Friday will only disguise the winter blast coming Saturday. At some point, the proverbial "other shoe will drop" was bound to happen.
A fast moving. 'clipper' low pressure will dive southeast Saturday morning spreading rain and snow through the Midwest. A heavy bad of snow is forecast along the Iowa, Minnesota, Wisconsin and Illinois borders. Winter storm warnings have been hoisted for the potential of a half foot of snow.
Below I posted the latest RPM computer model snowfall forecast followed by the National Weather Service probability of snowfall. This graphic is a probability of 2″ snowfall based off an ensemble of over 27 computer models.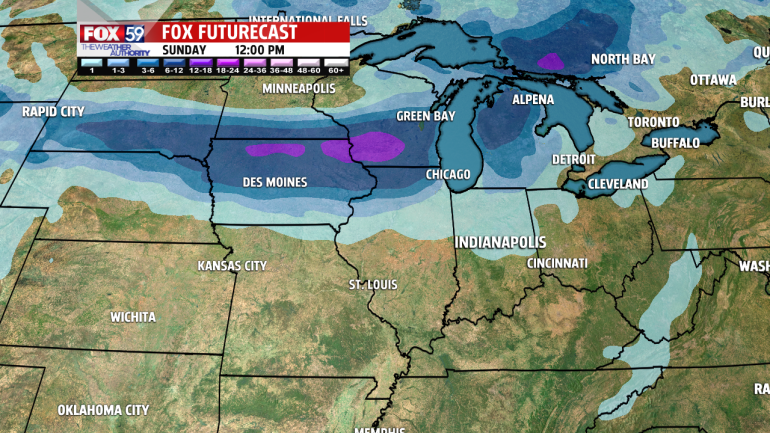 Earlier indications still suggest snow could stick here but not accumulate much. A coating is possible and of course later forecasts tonight will bring a more clearer picture. (European model has raised eyebrows). The thinking is that rain will spread throughout the state Saturday morning while still on the warm side of the system. Clipper storms typically are feast or and famine when it comes to snow. Most of the snow will fall north of the storm track. Locally, after the storm passes overhead and colder air roars in a burst of snow will develop. A coating is possible and it may look very wintry for a few hours Saturday night before ending quickly.
Much colder air pours in behind the storm – headed into the teen by Sunday morning.
LONG RANGE
Warming next week and Thanksgiving temperatures are expected back into the 50s –  warmest for Thanksgiving in 3 years.