This is an archived article and the information in the article may be outdated. Please look at the time stamp on the story to see when it was last updated.
After a couple of cool days and nights, temperatures will continue to slowly climb back to late-summer levels this week. Today, we ended up with temperatures in the low 70s, which was an improvement from the high of 66°F on Monday. As you can see above, temperatures will start to slide quickly again this evening under clear skies.
TONIGHT: The overnight hours will be cool and quiet yet again. High pressure continues to influence our forecast and keep things clear. Indianapolis will fall to 49°, so just a touch warmer than Tuesday morning. The outlying areas will see lows ranging from 45-48°F.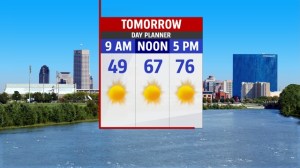 WEDNESDAY: Would you like some more sunshine? Well, you got it! Wednesday will be another day with barely a cloud in the sky. Winds will remain low and temperatures will climb back to seasonal levels. Indianapolis should climb to 76° for a day that is relatively "normal" for this time of year.
EXTENDED: A few more high, thin clouds should arrive on Thursday and the warm up will continue. Skies will be mostly sunny and we should see temperatures topping out around 78°F. Dew points continue to be slow, so you don't need to worry about a humid or sticky forecast. Friday and Saturday will be two more sunny days with temperatures near 80°. High pressure will still have a good grip on our area resulting in two more ideal days. Skies turn partly cloudy by Sunday but it will be another rain-free and warm day.