This is an archived article and the information in the article may be outdated. Please look at the time stamp on the story to see when it was last updated.
We had an unseasonably cold weekend here in central Indiana. Highs on Saturday and Sunday gave us a taste of November. Saturday's high was 20 degrees below normal while Sunday still missed normal by 10 degrees. Temperatures are set to improve as we enter the workweek but the upper level low that brought in the cold air will continue to keep rain in our forecast.
TONIGHT: After some spotty, light showers Sunday afternoon and evening, rain chances will end overnight. Skies remain mostly cloudy and this along with a southwest wind will keep temperatures from getting as cold. Lows are expected between 46-49°F which is close to normal for this time of year.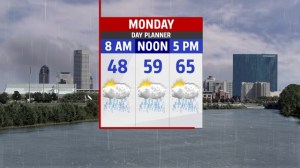 MONDAY: The upper level low will spin another wave of moisture into central Indiana on Monday. While strong and even severe weather will be possible south of us in Kentucky and Tennessee, we'll mainly just see spotty showers and maybe a few rumbles of thunder. As for the timing, rain could be picked up throughout the day but not all day long. What this means is that the chance for spotty, light showers will be in throughout the day but it shouldn't rain in your particular town all day long. We'll see a few waves of rain passing through, so keep the umbrella handy! The amount of rain we pick up on Monday should be well below a quarter of an inch. Temperatures climb into the mid 60s on Monday.
EXTENDED: Another push of moisture will move in on Tuesday thanks to our upper level low that continues to hang out to our north and influence the Ohio Valley. Skies will be cloudy on Tuesday with scattered showers possible during the day. This will be another day with highs in the mid to upper 60s and we'll see breezy conditions too. Winds are expected from the southwest at 10 to 20 mph. Wednesday should be dry, but with this upper level low still influencing us, check back for changes. But the last several weather models runs have had us between waves of moisture. Wednesday will be partly cloudy with a high around 67°F. Rain chances increase on Thursday and linger into Friday morning. I don't know about you but it sounds like a great week to have the umbrella handy!