This is an archived article and the information in the article may be outdated. Please look at the time stamp on the story to see when it was last updated.
While most of the week will be snow free we cannot rule out some light snow falling in Indianapolis and points north this evening.  We are tracking a secondary short wave dropping down in from Illinois.  You can actually see the temperature difference with this secondary blast of cooler air underneath the wave.  As the wave rolls through Northern Indiana some light snow will likely develop bringing a brief period of light snow.  Perhaps a dusting will be possible as it passes by.
The next 24 hours:
The cool-down is mostly over as temperatures will only fall to the upper 20s.  This isn't too much of a fall considering we have spent most of the day in the low 30s for temperatures.  In fact the overnight average low for this time of the year is 29 degrees and we are forecasting an Indianapolis overnight low of 28°.  Lows outside the city will likely fall to the mid to low 20s due to winds coming in out of the northeast.  This generally impacts the Indianapolis overnight low temperature due to the location of the airport as compared with the heat island known as Indianapolis.
Highs tomorrow also will close in on the seasonal average.  Tuesday highs will likely hit the low 40s with clouds finally breaking.  The average high this time of the year is 44°.  We could start the day with some slick roads due to the light snow potential overnight.  The rest of the day should be dry with some sunshine finally breaking through.
The rest of the week: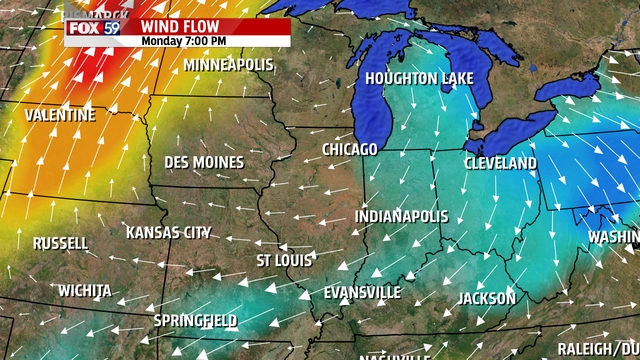 Seasonal weather sticks around with highs in the mid to low 40s.  There will be a chance for rain late Thursday into Friday but the latest runs are beginning to dry this rain chance up.  We will see a more zonal pattern for the remainder of a week which should limit the potential for big weather swings.