This is an archived article and the information in the article may be outdated. Please look at the time stamp on the story to see when it was last updated.
Central Indiana has seen an interesting day with dense fog early this morning along with falling temperatures throughout the majority of the day.  We saw our high of 43°F earlier this morning and temperatures have been falling into the mid to low 30s since that high was achieved.  It's also been a breezy day so that near freezing temperature continues to feel much colder.  Winds will continue this evening from the west at 10 to 20 mph.  There is a big cut-off in cloud cover out to our west in Illinois and that reveals a preview of what we'll see on Sunday: sunshine!  But with melting snow and the rain from last night, our clouds will hold on this evening and then start to decrease overnight.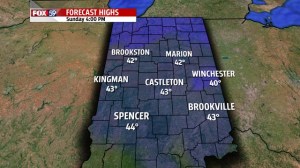 We'll see mostly cloudy skies tonight and temperatures will stay above normal.  Typically, temperatures should fall to around 20°F this time of year but we are only expecting a low of 27°F.  Clouds decrease by mid-morning on Sunday to reveal mostly sunny skies and more mild temperatures.  We should climb back into the mid to low 40s for Sunday afternoon.  This too puts us above "normal" for this time of year which is a pleasant change from the polar blast last week!
Clouds are expected to return Sunday night and thicken again on Monday.  A steady wind from the southwest will help pull in that warmth for another day and with it, more moisture.  This should help develop more clouds for the day and rain showers in our southern locations.  Here in Indianapolis we'll also see a small chance for rain but the best chance is south and east of the city.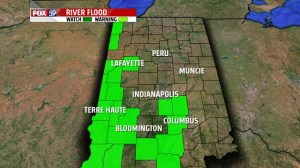 Many of our rivers will swell late Sunday and into the work week.  This will result in some minor to moderate flooding along those low-lying areas. To the left is a map of the area impacted by these river flood warnings.
The Driftwood River will enter flood stage on Monday.  You should also expect elevated levels along the Big Blue River and Sugar Creek. This will impact low-lying areas in southern Johnson and Bartholomew Counties.
The East Fork of the White River at Seymour should also go into flood stage on Sunday evening.  Minor flooding in low-lying areas can be expected throughout Jackson County until Thursday.
The White River will also see a rise to "flood stage" on Sunday and this will continue for several days.  This does not include the city of Indianapolis but does pick up in Owen County and continues into the southwestern part of the state.
Finally, the Wabash River at Lafayette will also see problems starting Monday morning.  That's when the river is projected to near flood stage at around 11 feet.  At this point, low agricultural land begins to flood in western Tippecanoe County.