This is an archived article and the information in the article may be outdated. Please look at the time stamp on the story to see when it was last updated.
We experienced temperatures in the mid 60s this afternoon in central Indiana along with ample sunshine.  It was a picture perfect spring day.  It's a shame that this isn't going to last.  A cold front is headed our way after 10 PM and it will bring back colder air and more winter like temperatures for the close of the weekend.  And don't think this is just a minor set back, temperatures will continue to tumble throughout the weekend and early next week.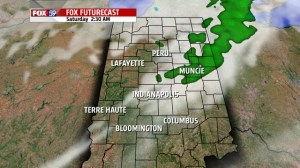 TONIGHT:  A cold front will move through central Indiana mainly after midnight.  As it sweeps from northwest to southeast, clouds will increase and isolated showers will fall.  But this isn't a guaranteed chance for precipitation.  The model average for rainfall comes in at .05″ but even that isn't a guarantee for each and every town.  As you can see on Fox Futurecast, the better chance for rain to fall will be north of I-70 and less of a chance to the south.  This front will have passed through the state by sunrise and temperatures will be trending colder. There will also be a large variety of temperatures for Saturday morning.  Lows around the freezing mark are possible in northwest Indiana while lows in the low 40s will be seen in southern Indiana.
WEEKEND OUTLOOK:  Colder air takes over the week and temperatures slip below normal.  We will top out in the mid to upper 40s on Saturday with partly cloudy skies. But with a northwest wind, colder air will be moving in all day.  This will definitely be felt on Sunday as highs come in colder for a second consecutive day.  We will only hit 37° here in Indianapolis with partly cloudy skies and light winds.  Temperatures like that are typical in late January and late February.