This is an archived article and the information in the article may be outdated. Please look at the time stamp on the story to see when it was last updated.
DEW POINT ON THE RISE
Changes underway as the atmosphere primes itself for rain fall. Staying dry for now with storm chances returning starting Wednesday late afternoon and evening.You can feel and see (haze) the humidity returning today.  The dew point has j
umped, a sign that moist air is becoming available for rain.
RAINFALL WEDNESDAY
An approaching cold front will interact with the more moist air Wednesday evening – storms and some locally heavy rainfall is possible.There is over 2″ of moisture evaporated into the atmosphere by Wednesday afternoon a key component to producing heavy rainfall totals. I do not see wide-spread flooding Wednesday with the current set up but under a t-storm or at least a series of them high amounts may occur.  A Flash flood watch has been hoisted.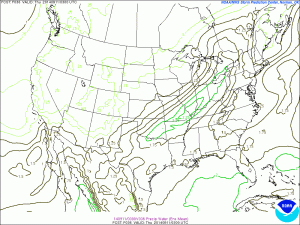 The average rainfall off 6 computers places 1.50″ of rain down in the city. The spread runs from 1.06″ to 1.98″ but again it is important to note the amounts will vary widely in and around t-storms. I'm posting the 26 computer average rainfall off the NWS SREF computer suite below.
TIMING STORMS – SEVERE THREAT
Storm threat reaches peaks tomorrow evening – we currently bracket the hours of 5 PM to midnight with a line of storms forming and settling south Wednesday night.
COOL BLAST OF AIR
The cold front that brings the storms in is a strong one – ushering in real fall-like air. If you enjoyed the weekend cool down then you may love this brand of air, coolest since mid May with lows forecast into the middle 40s in the city for the weekend.  With afternoon high temps in the 60s forecast it will feel more like mid-October.