This is an archived article and the information in the article may be outdated. Please look at the time stamp on the story to see when it was last updated.
WARMEST IN WEEKS
Our final full day of winter and feels like spring! This is the warmest day of March and the warmest in nearly three weeks. The temperature reached 60-degrees in Indianapolis, the warmest since February 28.
Not so fast, temps are set to crash and winter will return. Spring begins at 12:15 p.m. Tuesday but as forecasted last week, there is still some winter out there.
WET AND COLDER
A Winter Weather Advisory has been issued for a portion of east-central and southeast Indiana Tuesday night into Wednesday morning.
Rain will begin to fall here later this evening and after 12 a.m. could mix with sleet and freezing rain as temperatures lower on brisk northeast winds. The threat of some icing will reach its peak form 1 a.m. to 5 a.m. especially south and east of Indianapolis by early Tuesday morning. Be alert for some slick road conditions early Tuesday.
WINTER WEATHER ADVISORY
The next batch of wintry weather will arrive as a low pressure system passes south of the state early Wednesday morning. A favorable storm track for snow accumulation here and while details are still being ironed out, a Winter Weather Advisory has been issued for the potential of a wet accumulation of snow by Wednesday morning. There are a huge spread of snowfall amount solutions at this point but will be firmed up though the evening.
I'm posting below the probability of a 1″ snow or grater off the National Weather Service's ensemble models. This takes in over 40 different solutions and gives a spread in percent as to the likelihood of and location of snowfall.  Off our in-house RPM model 1″ to 3″ wet snow accumulation is possible in mainly southeast Indiana. Stay tuned. This is not a final take by any stretch!  The tricky upper low if positioned right (or wrongly) could create several inches of snow accumulation.  Late computer runs here just in after 10 pm are eye catching.  We will know much more tomorrow.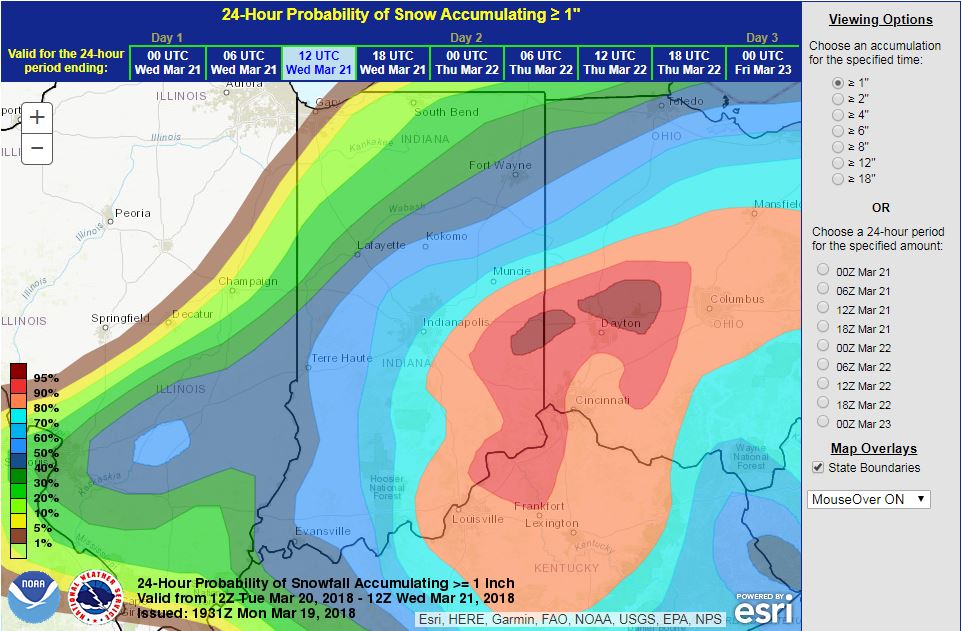 Be sure to check back later tonight and Tuesday and join me for updated on FOX59 News this evening and through the afternoon on Tuesday.