This is an archived article and the information in the article may be outdated. Please look at the time stamp on the story to see when it was last updated.
(Nov. 4, 2014) – A cold front passing through today marks the end of our brief warm up for this week with temperatures through the weekend expected to remain below the 30-year seasonal high temperature averages.  The front will bring light rain to the area for a big portion of the day.  More rain and precipitation are expected later this week.
Today: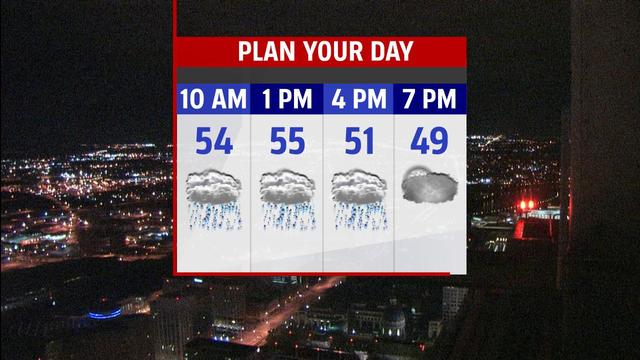 Clouds have already rolled in, keeping temperatures close to the high for the day this morning.  Expect cloudy conditions throughout the day with rain chances ramping up after 8 a.m. in Indianapolis.  Rain will arrive as soon as 6 a.m. in places like Lafayette and Terre Haute.  For places to the southeast of the city, rain won't arrive until shortly before noon with rain chances sticking around through about 8 p.m.
The average high for today is 58 degrees and it appears the high temperature have already been reached today as we are sitting on 56°.  The remainder of this morning and this afternoon will likely see temperatures in the mid-50s.  As the rain comes to an end temperatures will start to dip overnight with overnight lows expected to fall to 43°.
Rest of the week:
We are tracking a couple more chances for rain and perhaps even some flurries.  The first arrives on Thursday as a short wave trough cuts off as it moves into the state.  Rain on the front side of this system will likely turn over to some light snow on the backside of the system.  Temperatures on Thursday will be falling throughout the day with wind gusts topping 30 mph.  I was calling it overall a pretty nasty day for those stuck outside and it does appear that is still the case.
Over the weekend another front will slide through the state, bringing with it light rain, drizzle and even some snow flurries late Saturday into Sunday.  Once again no accumulation is expected.