This is an archived article and the information in the article may be outdated. Please look at the time stamp on the story to see when it was last updated.
Bright sunrise expected this morning before another cold front arrives this afternoon.  Temperatures will climb under early sunshine, as highs rise into the upper 30s and lower 40s by 3pm!  Rain looks likely for most of the area but rainfall amounts will be light and less than .10″.  Timing of rain between 2pm and 6pm…here is your timeline:
Here is an example of what the radar could look like by 4pm this afternoon…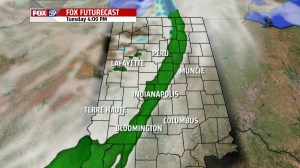 Much colder air arrives tomorrow and will hold through Saturday night/Sunday morning with a few snow chances…Here is your Wednesday outlook!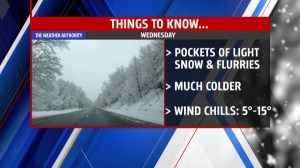 Friday seems to be the day that jumps out at me where we could have some problems traveling due to light snow and harshly colder air!  Some accumulations likely from 1″ to 1.5″ for now but look for updates in the days ahead!