This is an archived article and the information in the article may be outdated. Please look at the time stamp on the story to see when it was last updated.
A unique atmospheric setup unfolded across central Indiana Friday night.  An upper level low pressure system was headed into the Ohio Valley late day bringing a new round of snowfall to the state.  As early as Friday morning computer model snowfall forecasts were under playing the amount of snow headed to Indiana but ramped up quickly as the day progressed. 
This from a forecast standpoint is a challenge but has been seen before.  Upper low pressure systems are often underplayed by computer forecasts when it comes to snowfall amounts.  Experience shows that these "spins" in the higher levels of the atmosphere will generate locally heavy snowfall.  
An example of such a system occurred back in February of 201o when snow fell over Dallas, Texas before the Super Bowl.  That same system raced northeast to central Indiana bringing up to 6″ of snow to parts of the city while computers only indicated 1″ to 2″.  I remember bumping up my snow forecast the night before based on the 5″ that fell over Dallas and knowing that these systems tend to find their own moisture.
In addition to the upper low another small-scale atmospheric feature developed.  Late Friday evening as we prepared for snow to arrive close to air time at 10PM a narrow band of snow developed from Terre Haute northeast to Muncie.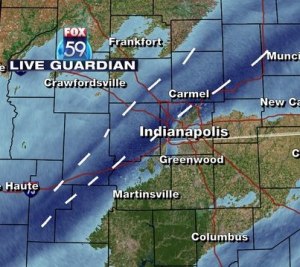 The radar showed (above) a the stream of snow very vividly and reports started to filter in that heavy snow was falling, well before the predicted time frame.  Soon rates of 1″ to 2″ of snow per hour were coming in while the main low pressure was still well to our south.  What was happening?  FRONTOGENEISIS.  The creation a front right before our eyes.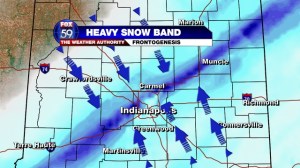 Air began converging and rising in that narrow band.  The rising or lifting air quickly cooled and snow began to fall around 6PM. (See image above)  The line was nearly stationary for two hours and beneath this front that snow fell fast.
By 10PM 5″ of snow was reported in Carmel, Zionsville and the northwest side of the city, while only just starting to snow downtown and on the city's south side.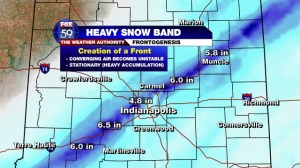 The band was only 15 miles wide and snow amounts dropped off sharply either side.  Later during the night the main system came through the area dumping up to 8″ of snow in southwest Indiana and brought the official total of snow to Indianapolis of 4.5″.
Conclusion – snow forecasts are not easy, very challenging and humbling.