This is an archived article and the information in the article may be outdated. Please look at the time stamp on the story to see when it was last updated.
Similar to last weekend we will see a warm-up as we head into the weekend.  Unlike last weekend we don't expect to see record amounts of rain falling.  There will, however, be a chance for rain.  At this point it looks like some communities could see upwards of a quarter inch of rain with most seeing far less than that.
Overnight tonight:
Temperatures won't fall much with our high of 33 on Friday giving way to an overnight low near 31.  Warmer air will continue to move in behind a warm front out of the south.  It appears we will have a chance to clear out just briefly as the sun comes up before clouds move in from the southwest.  By Noon on Saturday we should be overcast and likely will remain that way for the rest of the weekend.
Weekend warmth and rain chance: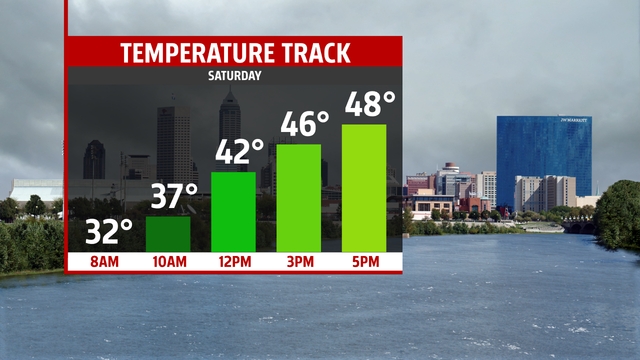 While temperatures will be warmer both Saturday and Sunday, like last week we will see some rain as well.  Unlike last week rain totals for most will likely remain below a fifth an inch.  The best chance for any rain will be on Sunday between 4  and 8 with the passage of a cold front.
Up until then temperatures will remain mild this weekend.  Saturday highs are expected to hit the upper 40s in most areas with the potential for 50s south of Indianapolis.  I am forecasting a high of 49 at the Indianapolis airport.
Saturday night into Sunday should be similar to tonight with no real cool down overnight.  In fact Saturday night should see temperatures ticking up overnight with us showing the Sunday low temperature being the same as the Saturday high temperature.  There will be a low chance for rain overnight with perhaps even a rumble of thunder heard in a couple of places.
Sunday should remain overcast with rain showers possible through the day.  Sunday highs could be the warmest since the middle of the month with highs likely approaching 60 degrees.  I have the Sunday high hitting 57 degrees but with warm air advection (movement of warmer air) continuing up until the frontal passage we could easily beat that number by a couple of degrees.  It will depend on just how much rain and how thick the clouds are throughout the day.
Next week: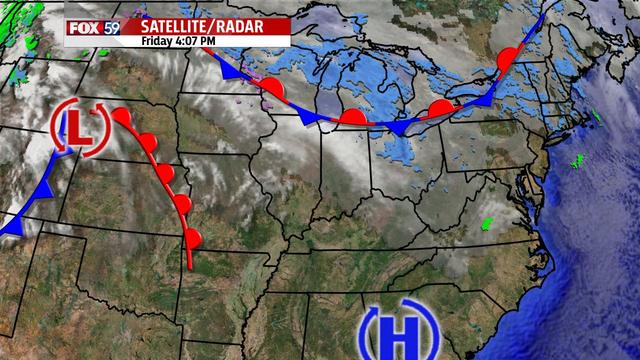 Similar to this past week as the work week hits the temperatures take a dip.  Monday highs will be in the 40s but likely will be reached at the start of the day.  Afternoon highs on Monday will be in the mid-30s.  Tuesday highs should be near 40 degrees with highs on Wednesday close to that.
Rain chances return on Thursday with rain likely around for part of the day on Thursday and into Friday.  Highs both days will be in the mid to upper 40s.  Enjoy your week!