This is an archived article and the information in the article may be outdated. Please look at the time stamp on the story to see when it was last updated.
The Winter Weather advisory has been lifted for Central Indiana as dew points are now above the freezing mark.  Dew points will continue to tick up for the remainder of the morning as warm air moves in from the south.  Extreme northern Indiana still has a winter weather advisory in place this morning through 6 am.
Your Headlines:
Busy forecast.  Whoa!  Winter strikes over the next week….
-All advisories have been cancelled from Kokomo south.  Dew points are a couple of degrees above freezing and ticking up…  temps cannot fall below the dew point
-Minor snow accumulations will be possible tomorrow night into Monday morning, mainly north of Indianapolis.  Would not be surprised if someone reports up to a half inch on ground.
-Another accumulating snow storm heads our way for Monday night into Tuesday morning.  An inch to two inches may be possible with that event
-Bitter cold arrives for the mid-week.  Thursday morning is likely to be the time we bottom out with lows falling to a forecast of -4!  It will feel like the negative teens.
-Windy conditions both Monday and Tuesday morning could also push the wind chill to below 0.
Today: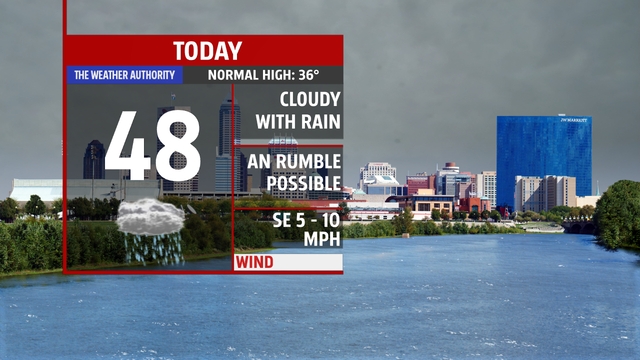 Expect to see rain, rain and more rain.  Some communities could be looking at one to two inches of rain throughout the day.  Areas with the best chance for seeing rain are south and east of Indianapolis.  Places north of Indianapolis are expected to see between three quarters of an inch to a full inch of rain.  If you can dodge the rain, it will at least be warm.  Highs today should near 50 degrees before the big temperature crash begins to arrive.
Sunday:
The first two surges of cold air arrive on Sunday with temperatures falling all day long and snow being possible Sunday afternoon.  Temperatures will be falling throughout the day on Sunday with highs hit at midnight.  Afternoon temperatures should hold steady near 30 degrees.  Snow is expected to be light with minor accumulations being possible from Indianapolis north.  I would not be surprised to see one or two reports coming in of 1" or more of snow.  Most should see a dusting to light accumulations.
Work Week: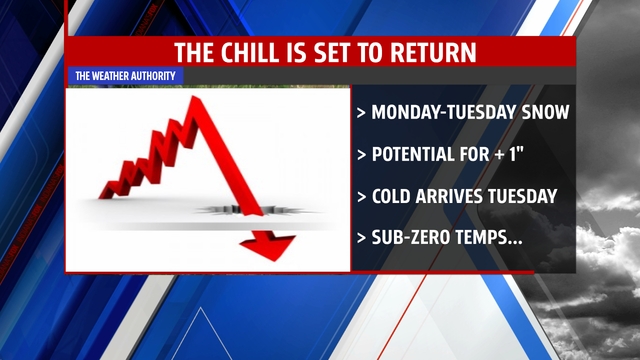 The coldest weather yet this season moves in with temperatures plummeting to below zero by Thursday morning.  Snow will also be possible Monday to Tuesday with perhaps an inch or two possible.  Bundle up most mornings will see a wind chill value of 0 or below!