This is an archived article and the information in the article may be outdated. Please look at the time stamp on the story to see when it was last updated.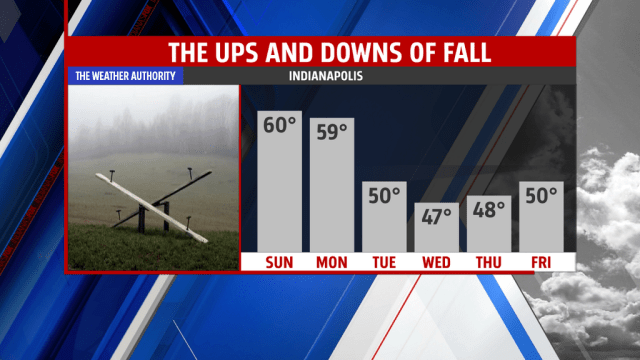 For today look for a chilly start giving way to a mild afternoon.  Highs this afternoon should barely slide into the 60s with plenty of sunshine.  Monday will be similar but slightly cooler.  Officially we have Indianapolis at 59 for a Monday high.  A series of fronts will slide through on Monday and by the end of the day the coldest weather we have seen in months will be sliding into the area from the northwest.
Tuesday is going to be one chilly day.  We fully expect to see Indianapolis' first full frost occur Tuesday morning with temperatures dipping to near freeing in Indianapolis and most places outside of the city seeing their first freeze of the year.  A Tuesday high of only 49 degrees is expected.  Another shortwave will slide through late Tuesday into Wednesday morning bringing with it a decent shot at some winter weather.  Once again anything that falls will not be enough to impact motorist.  Wednesday highs could fail to hit 45 degrees.
We have a little bit of a warm-up coming to finish out the week but temperatures will continue to run below average for the time.  Highs on Thursday should be near 50°  We should see highs return to the 50s for Friday and Saturday.