This is an archived article and the information in the article may be outdated. Please look at the time stamp on the story to see when it was last updated.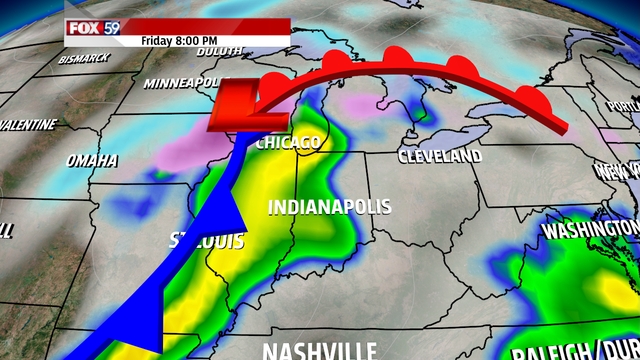 — Quick note there are slippery roads as we start off the day due to light mist along with temps near the freezing mark…
A busy weather day today as we are tracking rain that will track through area tonight along with warmer temperatures. Overall, we haven't seen temperatures above 32 degrees since 7 a.m. on Sunday and that stretch of nearly 120 hours will be snapped this morning as warmer air comes in from the south.  This warm air will keep the environment moist so fog and clouds will be possible throughout most of the day.  In fact, we won't see any sun.
Rain totals from tonight will be modest with most seeing around a half inch of rain to perhaps up to a full inch of rain.  There is a small concern for flooding as rain along with snow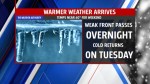 melt head towards area rivers.  At this point it does not appear that we will see any major flooding but that could change depending on exactly how much rain we are set to receive.
Most of the rain will fall between 8 p.m. Friday through about 6 a.m. Saturday.  I like to call this bed time rainfall and it generally means for most you won't really be impacted by the rain.  The ground will be soggy on Saturday morning with a slushy mess outside.  Saturday highs will be reached early with us seeing temperatures about the same temp throughout the day.  Low level clouds will be present on Saturday, but I think we will see some sun through the day.
Sunday will see highs near 40 degrees with more rain likely through the day.  The rain is expected to change over to snow on Tuesday morning with us seeing flurries also during the day on Tuesday and Wednesday.  Temperatures are set to plunge during this time as well with highs on Wednesday in the teens and single digit temps possible on Thursday morning.
And, if you missed it, Blue the Mascot dropped by FOX59 Morning News today: