This is an archived article and the information in the article may be outdated. Please look at the time stamp on the story to see when it was last updated.
BRIEF SPELL OF FREEZING RAIN
As milder air returns to central Indiana overnight, an approaching warm front will increase clouds and  precipitation into the state after midnight.  The cold grip begins to ease with a rise in the temperatures to above freezing.  Before the temperature reaches the freezing mark, some of the light rain that falls could briefly freeze on contact starting around 1 a.m.  Very little ice accumulation is likely and again the spell should be brief, ending well before sunrise.
If you are travelling after midnight Saturday morning be careful.  Light accumulations of ice are possible especially northwest of the city.  Freezing rain advisories are in effect through 7 AM Saturday in northwest Indiana.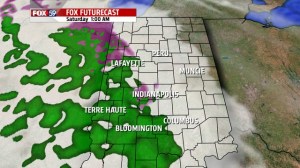 RISING TEMPERATURES
The temperature will climb during the overnight hours and continue the climb into the upper 40s Saturday afternoon.  The milder air here in a week and a half.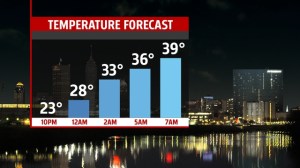 COLDEST NOVEMBER IN 63 YEARS
The cold spell eases for a day or two but not before the average temperature to date dipped to 35.3°.  This is the 2nd coldest November on record trailing only 1951 – the all time coldest of 34.4°.  A new surge in cold starting next week could very well send us to the #1 spot.  Stay tuned.
ARCTIC AIR IN RETREAT
Saturday will warm up finally to near 'normal' temperatures and possibly end the frigid streak at 10 days.  Afternoon temps could reach 50° in some spots over 35 degrees warmer than early Friday morning.
Any rain fall should remain light and scattered.  There will be dry time and stretches of rain free hours Saturday.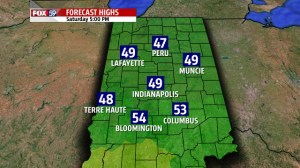 EVEN WARMER SUNDAY – AUTUMN STORM DEVELOPS
A surge of mild and moist air will continue on Sunday as a powerhouse storms is forecast to take shape.  Rain will spread north Sunday evening and possibly become heavy by midnight.  Rainfall amounts of a quick 1″ is possible.  Along with the rain late comes milder air, we could climb to near 60° when we head to bed late Sunday night.
The storm's central pressure is forecast to drop rapidly or 'bomb' as it moves north to Michigan.  The rapid central pressure drop forecast to 980 mb or 28.95″ on the barometer that rivals tropical storm or hurricane status.  Surface wind gusts could reach 50 mph by early monday.  We will have update throughout the weekend.
SNOW ON THANKSGIVING DAY MENU
A new surge of cold coming in to waves next week will bring snow chances back.  The most significant chance is could arrive on Thanksgiving day.  A suite of longer range computer estimates snowfall is likely and may even produce light accumulations.  More information will become available  in the days ahead.  Stay tuned.