This is an archived article and the information in the article may be outdated. Please look at the time stamp on the story to see when it was last updated.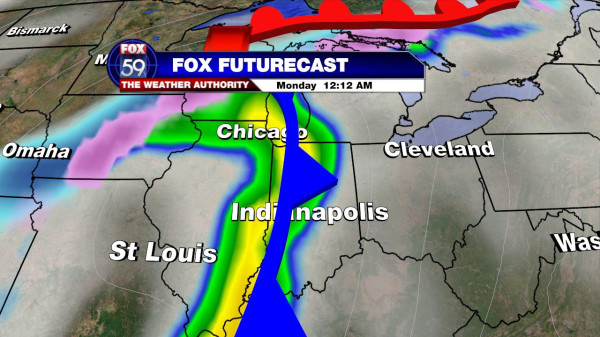 Warm weather sticks around for the day today with a couple of isolated showers.  Even with temperatures surging to the 60s we are looking at little to no instability and I doubt we have little to no lightning tonight as the cold front rolls through.  Rain totals tonight will be around an inch of rain.
Tomorrow temperatures will cool to the 40s for most of the day with highs in the low 50s.  Monday highs will occur first thing in the morning and fall behind cold front
passage to the 40s.  The cold front should push through between 6am and 8am here in Indianapolis.
Temperatures will go from 50s to the 40s behind the cold front for Monday.  Monday winds will be out of the west.  Another front will slide through on Monday night into Tuesday morning Winds will shift to the northwest behind it pulling in a chill for Tuesday.  Tuesday highs will be near 40 with mid-30s for highs on Wednesday.  While model data is not showing much in the way for snow on Wednesday we are seeing a small wave that is forecast to move through.  This could bring some light snow to the forecast.
Finally to wrap up the next seven days temperatures will slowly warm heading into the weekend.  A lifting warm front will bring another chance for rain on Friday and Saturday.