This is an archived article and the information in the article may be outdated. Please look at the time stamp on the story to see when it was last updated.
Great start this morning with mild temperatures and dry roadways…should be a nice sunrise (8:02 a.m.) but clouds will be moving in quickly through the day!
No rain today from sunrise to sunset, as temperatures warm into the upper 40s…here is your timeline: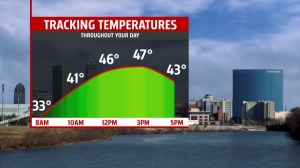 Rain will come in waves from Friday through Sunday before much colder air returns. Flooding remains a concern with snow-melt, frozen ground and heavy amounts of rainfall!  Look for more updates on flooding issues in the days ahead and try to enjoy the milder air!