This is an archived article and the information in the article may be outdated. Please look at the time stamp on the story to see when it was last updated.
SEPTEMBER ENDS WARM
Monday marked 7 straight days above normal and we close the book on the first month of Fall.  20 of the 30 days this September were above normal and the early month heat (96° on the 10th) had pushed this month to the warmest on record.  There was a large temperature correction since mid month and we dropped to the 34th warmest September on record.  The month ends 2.7° per day above normal
MONTHLY DRY STREAK LIVES ON
The rainfall Sunday was not enough to erase the monthly deficit.  The month will close with 2.86″ of rainfall but .26″ shy of normal.  This makes September the 5th straight month below normal – April was the last month that ended above.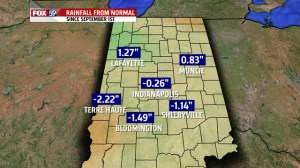 80s IN OCTOBER
October will open warm and possibly the warmest here in 6 years.  Early AM fog may have a say in how warm we get Tuesday but the chance of 80 days is on the rise for the rest of the work week.  While common to have a few 80s in October we are getting late in the season.  The average day of the last 80° day is October 7th.
October ties September as the second fastest cooling month dropping by 11 degrees from the average high on the first (71°) to 60° on the 31st.  Losing 1 hour and 13 minutes of daylight will take a toll on the warmth and by mid month the possibility of a freeze grows.  The average date of the first freeze in the city comes on the 16th.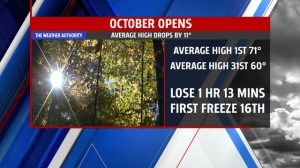 30 DAY OUTLOOK
Updated by the National Weather Service's Climate Prediction Center, most of the nation favor for above normal temperature as a whole for the month.  Precipitation here has an equal chance of above or below.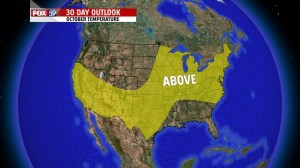 COLDEST OF THE SEASON
The long advertised October 5th / 6th storm system still looks on track with timing better focused for this Saturday.  Much of the past week Long Ranger forecast models have hinted at the strong front arriving here Friday / Saturday time frame.  We have honed in on this system due here with a strong cold front Saturday.  Still several days out, this front could bring strong storms and the coolest air of the season behind it.  With new data in-house it appears there could be two lobes of cold air coming but we will better identify this later in the week.