This is an archived article and the information in the article may be outdated. Please look at the time stamp on the story to see when it was last updated.
SUMMER ON HOLD
This cool July rolls on – updated average temperature for the month at 70.9° makes July 2014 tied for 6th coolest July ever to date. Summer 2014 (Since June 1st) has produced 32 below normal days.  That's 68% of our summer days cooler than normal.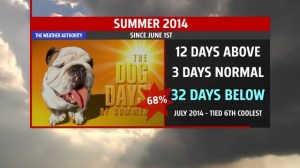 MID JULY?
Early morning lows were once again at October levels with lows in the 40s well away from the city Thursday morning.
Some of the impressive mid-July lows included:
45° Young America (Cass Co.)
46° Knox (Starke Co.), Crawfordsville (Montgomery Co), Peru (Miami Co)
47° New Castle (Henry Co)
48°Farmland (Randolph Co), Marion (Grant Co), West Lafayette (Tippecanoe Co)
49° Carmel (Hamilton Co) Muncie (Delaware Co)
Not as cool tonight but still comfortable with coolest temps again away from the city.
NO 90° YET
Loving the cool or ready for summer to return?  We should be saving on electric bill this month.  To date coolest July in 13 years and still no official 90° for the city. 1st 90° last year came July 16th, The average date of the 1st 90 is June 14th. There have only been 5 other summers on record that have taken this long to produce a 90° day – 2004 the only summer with no 90°.