This is an archived article and the information in the article may be outdated. Please look at the time stamp on the story to see when it was last updated.
The weather is expected to stay pleasant through Thursday with highs each day near 80 degrees.  This late season heat should be enjoyed while it is here as temperatures will begin to trend down soon enough.  Last year our last 80 degree day fell on October 4th.  Thursday's 80 degree day will fall on the second of the month and could potentially be our last 80 degree day of the year.  The long range 15 day GFS model supports my opinion.  It is showing temperatures staying cool behind the Friday cold front with highs closer to 70.
Today: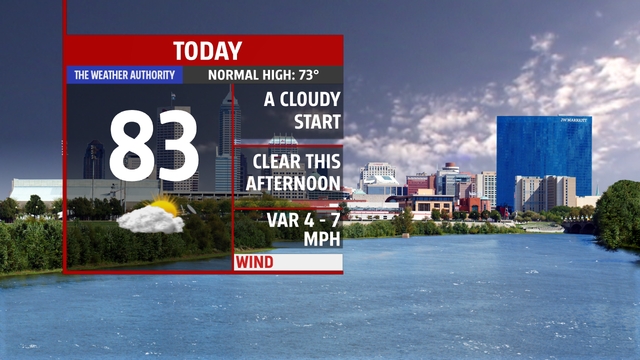 Some clouds as we start of our morning should give way to some late day clear skies for today.  It should be another picture perfect and comfortable day with variable winds at around 2 – 5 mph.  Highs today should be slightly warmer than yesterday's 81°.  We will officially go 83 degrees for our high today due to clearer skies.
This upcoming week: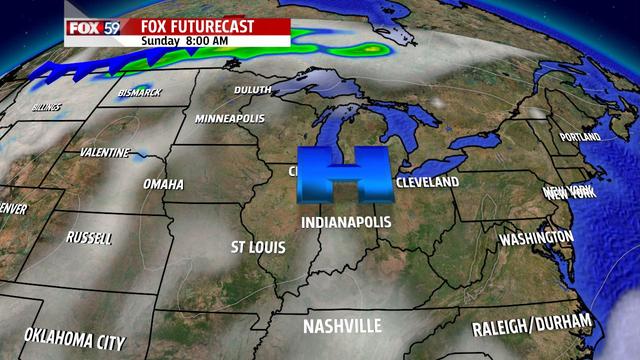 More of the same gorgeous weather is expected across the state for most of the week.  Monday highs will be in the low 80s.  A weak front will try to dive in for Tuesday but at this time the full extent on how far it makes it south before stalling out is unknown.  This will be key to how warm or cool we are for Tuesday.  At this point to me it looks like the front stall out right on top of Indianapolis with the increased cloud cover keeping us in the upper 70s for highs.
Wednesday and Thursday will be dry with highs near 80 degrees.  Thursday will likely be the warmest day of the week as I have our high at 84 degrees.  Clouds will roll in Thursday afternoon with rain occurring after 8pm.  It appears strong storms will be possible overnight.
Friday and Saturday will be noticeably cooled with highs on Friday in the 70s and Saturday highs in just the 60s.  Enjoy the week and the warmth!