This is an archived article and the information in the article may be outdated. Please look at the time stamp on the story to see when it was last updated.
COLD OPEN FRIDAY
Skies clearing out early Friday morning and cool air pouring in behind the 2nd cold front in under 24 hours lowered temperatures into the 30's away from the city.  The official low of 43° in the city was the coolest since Mother's Day morning.  Coldest temperatures Friday morning came northwest where Lafayette fell into the middle 30's.  A far cry from one year ago when Carb Day 2012 opened with a huge jump in humidity.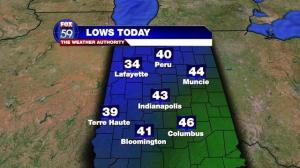 COOLEST MEMORIAL DAY WEEKEND IN 17 YEARS
The large high pressure that moved in early Friday will slowly ease east through the weekend.  The forecast for Saturday through Monday includes afternoon temperatures only in the 60's with a three-day average of 67°.  This will be the coolest (3 days) Memorial Day weekend since 1996 when the average temperature came in at 67.3°
The race day forecast of 66° will be the coolest in 10 years and Memorial Day will 2013 will be the coolest since 1997 (16 years ago).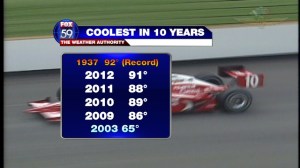 RAIN CHANCE ON THE RISE
Rainfall will likely spread into central Indiana this weekend but it may have a hard time getting started.  A large high pressure will try to hold on providing dry air to soak up approaching rainfall.  As the weekend moves along this high pressure will inch east allowing a warm front to approach.  Initially showers diving into central Indiana Saturday afternoon and evening will dry up – only light rain and sprinkles are expected possibly lingering into Sunday morning.  The warm front will lift north late Sunday allowing moist air (supportive of rain and thunderstorms) to move in.  Of the three days this weekend, the "wettest" day is looking to be Monday.  Do not cancel any outdoor plans!  There will be many rain-free and dry hours on Monday as well.
HERE COMES THE HEAT (NOT THE BASKETBALL TEAM)
Passing the state early Tuesday morning will be a summer-like warm front.  All forecasts point to a big rise in temperatures and humidity by the middle of next week.  Currently, the forecast is for upper 80's to near 90° heat arriving.  This could be the warmest air of the season so far and hottest since early September 2012.