This is an archived article and the information in the article may be outdated. Please look at the time stamp on the story to see when it was last updated.
The weather was active in the Midwest on Saturday, especially through central Illinois. There were several tornado reports, hail and severe thunderstorm gust reports near Springfield and northeast of St. Louis. There were two tornado warnings issued for Warren and Benton counties in Indiana because radar indicated rotation within a strong thunderstorm. The storms quickly weakened as they entered the more "stable" atmospheric environment in Indiana.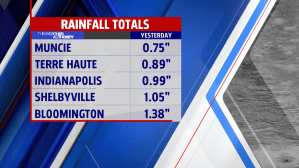 It is a much quieter start to Sunday with a mostly clear sky over central Indiana. We will have some sunshine early in the morning before more clouds move into the area this afternoon. Two cold fronts are going to travel over the state within the next two days. The first one will arrive this afternoon and another Monday morning. The boundaries will result in a big drop in temperatures as we head into the work week.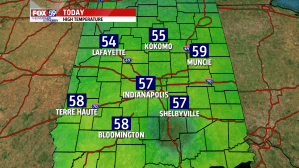 The high temperature in Indianapolis was 57 degrees shortly after midnight. At 7 AM, temperatures dropped into the upper 40s and lower 50s. We will recover bit through midday with a "daytime" high near 54 degrees. However, temperatures will quickly decline due to a passing cold front. Indianapolis will drop back into the mid-40s by 5 PM. Windy conditions are also expected with wind gusts near 40 MPH at times this afternoon.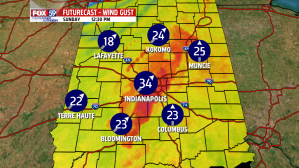 Widely scattered rainfall will move into central Indiana late in the afternoon. Most of the activity is going to be north of Indianapolis. The light showers may mix in with snowflakes early Monday morning as a second cold front moves over the state.
Temperatures will continue to drop through Monday evening and night. Lows are going to fall back into the 20s by Tuesday morning. Scattered flurries will be possible both Tuesday and into Wednesday morning.