This is an archived article and the information in the article may be outdated. Please look at the time stamp on the story to see when it was last updated.
30s IN MAY
Early morning low temps dipped to  37° in Lafayette and Crawfordsville.  A chilly start to end the work week.  For some locations, this is the second straight morning with early morning lows in the 30s.  Officially Indianapolis reached the 30s on two occasions last May.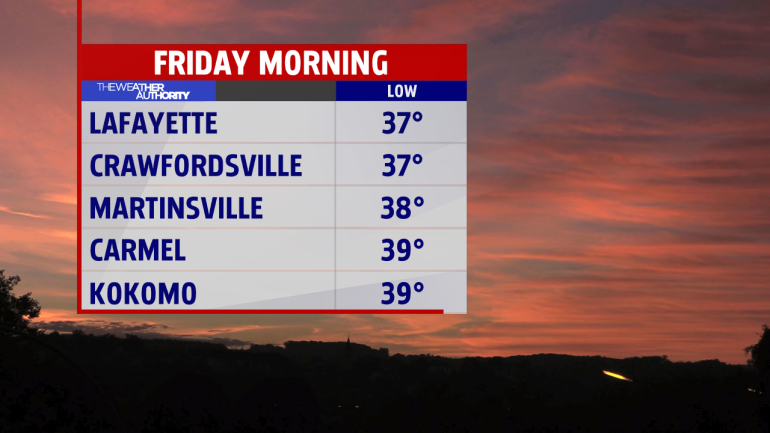 BACK TO NORMAL
The chilly work week concluded with 70° high temperatures.  Sunshine and a northwest wind helped elevate the temperatures.  Wait, a northwest wind?  The current configuration of the jet streams as allowed very warm air to surge way north , well into Canada  It reached 91° in Minneapolis Friday afternoon!  The warm air is spreading southeast as a upper low finally moves east and away from the state.  Warmer air will flow into the state overnight as wind flatten out from the west southwest through sunrise.
WARM SURGE
The warm air will flow into the state and to open the weekend but a cold front will quickly drop into the state by Saturday night.  A wind shift will occur Saturday and a slow temperature drop will develop by mid to late afternoon.  Before the wind shift we could reach the 80° mark
MILD MINI
This will be the mildest start to a Mini Marathon in three years!  Past two years we started the day in the 40s.  Over the past 21 years, five Mini Marathons reached 80° the afternoon of.  43% (since 1994) have remained in the 60s for high temperatures.  As recent as 2012, it started steamy and 62° reaching a humid high of 81°.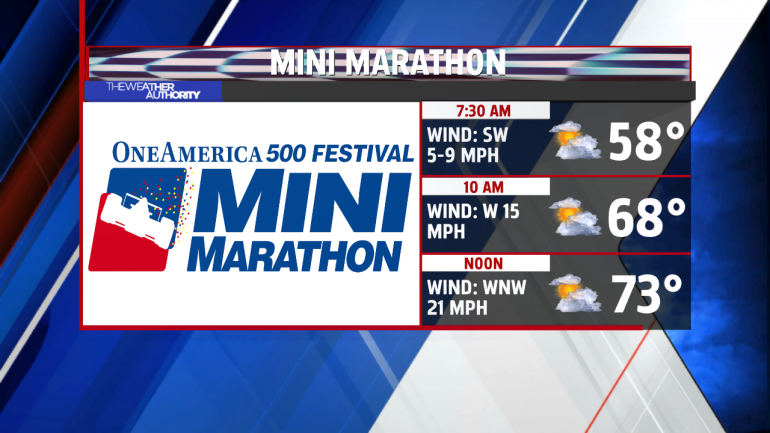 STORM CHANCES
The front will reach central Indiana at peak heating Saturday and along and just ahead of the front, showers and a few t-storms are forecast to develop.  At this time, the rain and storms will favor or target the southern third of the state.  Coverage looks limited peaking to 30% of the area but a few gusty storms could develop – we will monitor trends.  Currently, the Storm Predication Center has highlighted a portion of south-central Indiana for a slight risk of severe storms.  A watch box may be required if storms do flare.