This is an archived article and the information in the article may be outdated. Please look at the time stamp on the story to see when it was last updated.
SEASONAL JUMP
From September (summer) to November (fall) in one day!  The cool off is a sharp one as persistent cloud cover and showers linger late into the afternoon Thursday.  After 76° high temperature Wednesday, Thursday became the coolest afternoon of the fall, holding steady in the mid to upper 50s.
Thursday was the coolest afternoon since mid May but a little more typical for October. It was has been anything but a typical October! An afternoon this cool is way behind schedule, noting the average date of the first sub 60° day comes September 30.
2016 is running late and behind last year by over two weeks. Last Fall the first day in the 50s came October 3rd.
WARM AUTUMN TAKES A BREAK
Autumn 'pumps the breaks' on the warmth with this spell of cooler air. To date, the Fall 2016 has topped 5th warmest all-time on record with over 73% of the days since September 1 above normal.
Entering the third week of October, October 2016 is running over 7° per day above normal and has now reached the 9th warmest on record. To date, it is the second warmest October in 30 years trailing 2007, when record high's for the month were set.
CHILLY OPEN TO WEEKEND
The cool off will really be felt when clearing skies and lighter winds arrive late Friday into early Saturday morning. We will open the weekend with potential patch frost for the second time this season in far outlying areas. To date, the coolest more of the fall is only 46° in Indianapolis. We could see many area thermometers dip below 40° early Saturday.
WINTER OUTLOOK ISSUED
The National Weather Service issued its seasonal outlook Thursday for Winter 2016-2017. Based on conditions that favor cooling waters in the equatorial pacific, known as La Niña conditions, a higher probability of cooler and wetter conditions favor much of the upper Midwest. Often the 'footprint' of a La Niña. While these conditions are not carved in stone, the NWS states, "La Niña remains a consideration in the outlooks through the winter."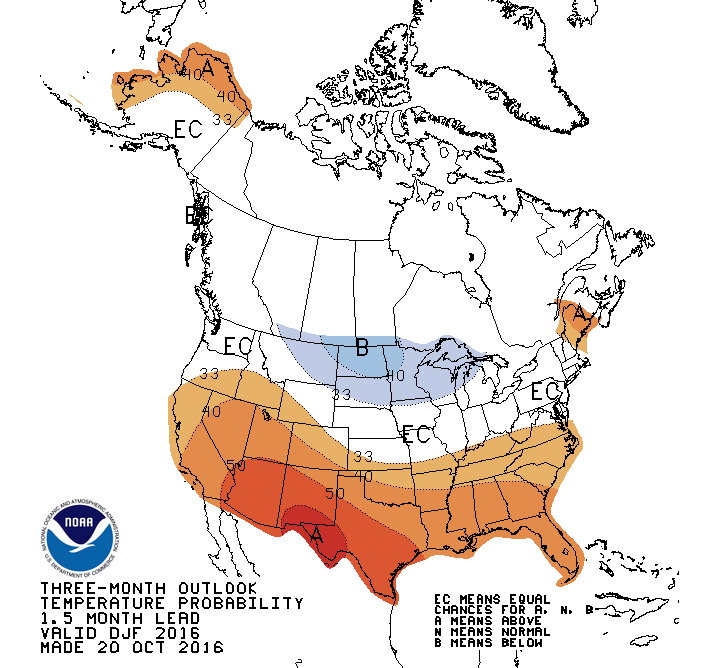 Locally, equal chances of above or below temperatures are forecast here with higher probabilities of above normal precipitation.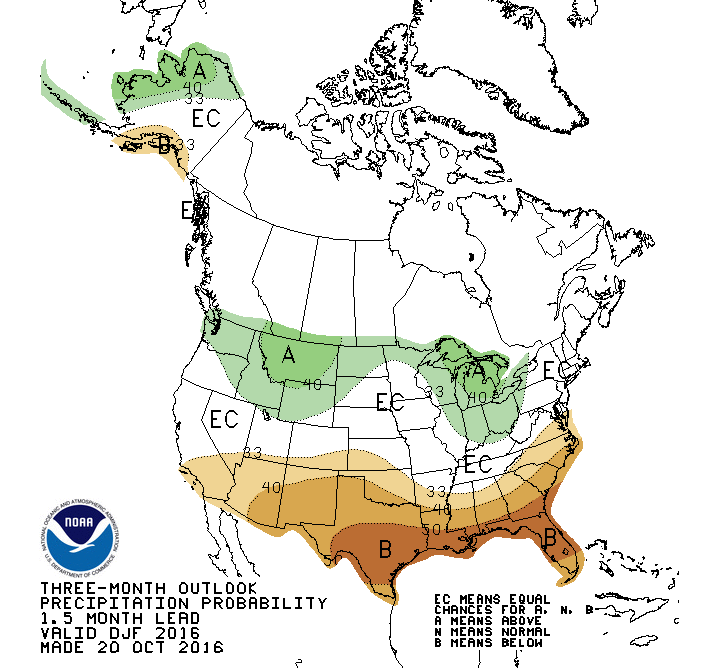 My thoughts are that we are due for some cooler than normal months. Based on the number of months above normal, now 14 out of the past 15, the timing for a sub-average or colder than normal month(s) are due. Could November take a dive? Based on the National Weather Service 30-day outlook, not necessarily, but we due favor a surge of cooler than normal weather this winter. Question is when? That will become clearer as we enter mid November and early December.
Locally, La Niña can bring some very volatile weather. Sharp changes that often include big arctic fronts and big temperature swings are a real possibility during La Niña winters. Severe outbreaks farther north than normal?  No two La Niñas are alike.  Often snowfall and precipitation are in short supply along with transient cold, meaning the arctic air often is not locked in for extended spells. There have been La Niña winters that have produced significant storms.
There are all kind of winter forecast techniques, just pick up the Farmer's Almanac! But based on new era meteorology and newer, high-bred computer models that take into consideration the workings of ocean and atmospheric conditions hand in hand, known as "coupled" models help produce a suite of solutions that give forecasters new insights on seasonal outlooks. But even these vary widely and often are forecasting or painting with a large brush.  Remember it really only take one storm to make it a bad winter.
Stay tuned, we will monitor, and have updates later this fall.