This is an archived article and the information in the article may be outdated. Please look at the time stamp on the story to see when it was last updated.
HUMIDITY SURGES
It is back. The tropical air returned Monday as dew point temperatures (the real measure of moisture in the atmosphere) jumped as much as 20-degrees from Sunday. The high amount of moisture in the atmosphere is already impacting area visibility with fog thickening up. The haze and fog will be with us throughout the night along with some embedded drizzle and mist.
RAIN CHANCES ARE RISING
Showers arrived to start the work week but are thinning out temporarily in coverage and intensity Monday evening. This is the first measurable rainfall in over two weeks. Despite the dry weather the past two weeks, it is still among the wettest Septembers on record with 4.83". Good for 12th wettest to date.
The rain threat will remain throughout the night and may increase again as a warm front lifts north from southern Indiana. A few downpours along with a thunderstorm are more likely after midnight through sunrise.
STORM THREAT TUESDAY
Showers and storms early will likely thin out again by mid-morning so no all-day rain is expected Tuesday. The approach of stronger winds aloft later Tuesday afternoon could create new storms and elevate them to strong or even severe status is possible. While not all ingredients are favorable for a severe storm, we will monitor trends. Any extended rain-free hours and even breaks in the cloud cover could lead to a better threat but those conditions are still up for debate. SPC, the Storm Prediction Center, has out-looked a large portion of the state for the severe threat Tuesday. We will monitor trends.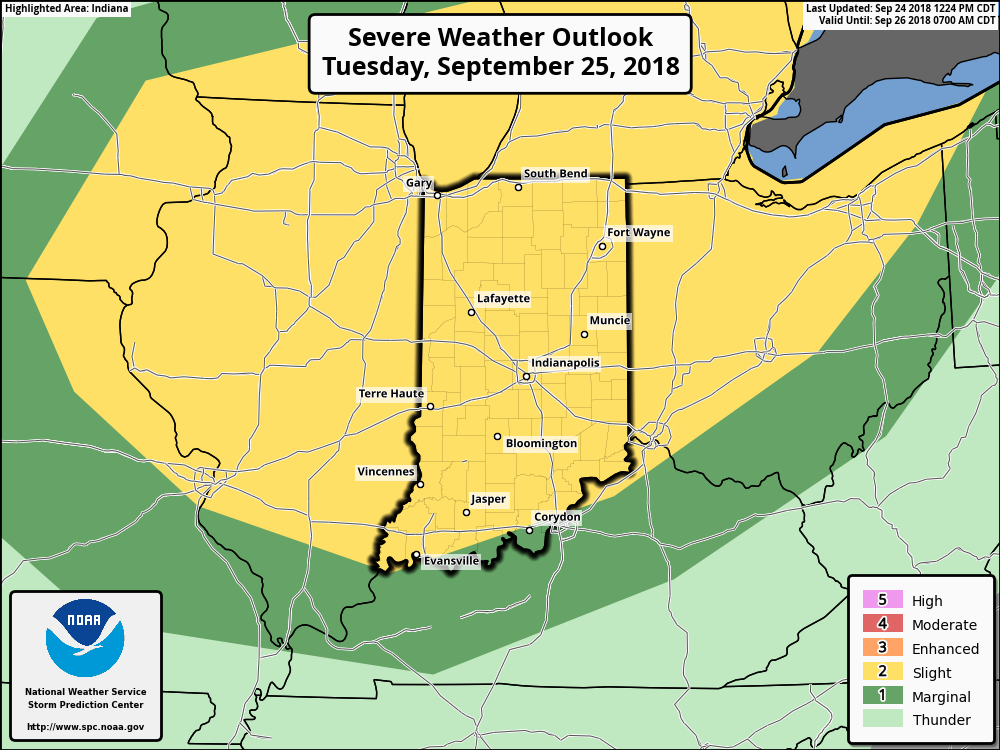 WARMEST FALL IN DECADES
The cool off entering the weekend may have been a welcome one and rather overdue. Our young autumn already ranks 8th warmest on record and is the warmest in 57 years. 71 percent of the days since September 1 have been above normal.
One-third of the days this meteorological fall have reached 90-degrees or higher. That's the MOST 90s to date in an autumn and a September in 35 years (1983).