This is an archived article and the information in the article may be outdated. Please look at the time stamp on the story to see when it was last updated.
INDIANAPOLIS, Ind. (Dec. 26, 2015)--Good Saturday evening!
A Flash Flood Watch is in effect until 7 p.m. Monday where as much as 3-5 inches of rain may fall with isolated higher totals. Watch for flash flooding, especially in low-lying areas. This map gives you an idea of what to expect through Monday afternoon.
It's been a wet day across the area with 0.75 inches of rainfall in Indy as of 11 p.m. A warm front will lift north across the area tonight resulting in more rainfall, some heavy with embedded thunderstorms. Temperatures will rise overnight to near 61 degrees and then fall to near 50 degrees by daybreak Sunday.
Here's how the temperatures will trend through Sunday. Expect the low 40s by the afternoon with gusty north winds.
Futurecast shows rain with embedded t-storms continuing through Sunday morning as a warm front stalls across central Indiana. Rain is likely on Monday as another low pressure system moves in from the southwest. As colder air moves in behind this strong low pressure on Monday, expect the chance of a rain/snow mix north of Indianapolis through the day. Temperatures will only be in the low 40s with strong east, northeast winds gusting to 35 mph.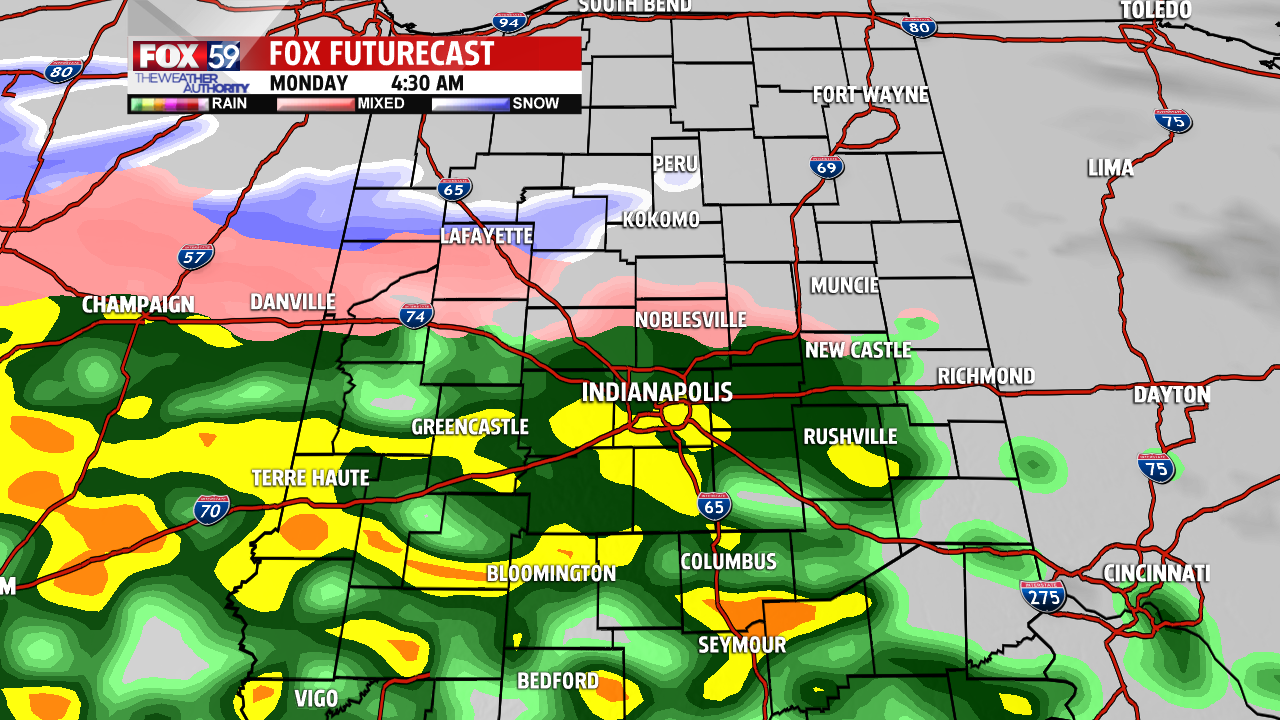 Rain will come to an end early Tuesday morning and return again on Wednesday. Much colder air moves in for New Year's Eve with highs only in the low 30s with a slight chance of snow. Check back for new updates to the forecast! -Danielle Dozier