This is an archived article and the information in the article may be outdated. Please look at the time stamp on the story to see when it was last updated.
. INDIANAPOLIS, Ind. (Dec. 28, 2015)--Good Monday afternoon! More than 3 inches of rain has fallen in Indy in the last two days with an additional 0.50 to 1 inch of rain possible through 8 p.m. Monday.  Indy has had more rainfall in the past two days than its December monthly average to date!
T-storms are also possible Monday evening. Numerous roads have been closed across parts of central Indiana due to high water. Do not drive through flooded roadways. You never know how deep the water is. A Flash Flood Watch remains in effect through 7 p.m.
Flood warnings continue for many rivers across central Indiana. They are either at or above flood stage and will continue to rise over the next couple of days.
Winds are still very strong across the area with gusts to 40 mph this afternoon. A Wind Advisory is in effect for some central Indiana counties through 7 p.m. Monday.
Futurecast shows gusts to 25 and 30 mph in Indy through Tuesday morning with higher gusts up north.
Temperatures will rise tonight as a warm front lifts across the area this evening. That warm front is currently to our south in Kentucky as of 2:30 p.m.  Temperatures will climb to the 50s tonight before falling again to the upper 30s Tuesday morning.  Temperatures will hold steady in the upper 30s through a good part of Tuesday.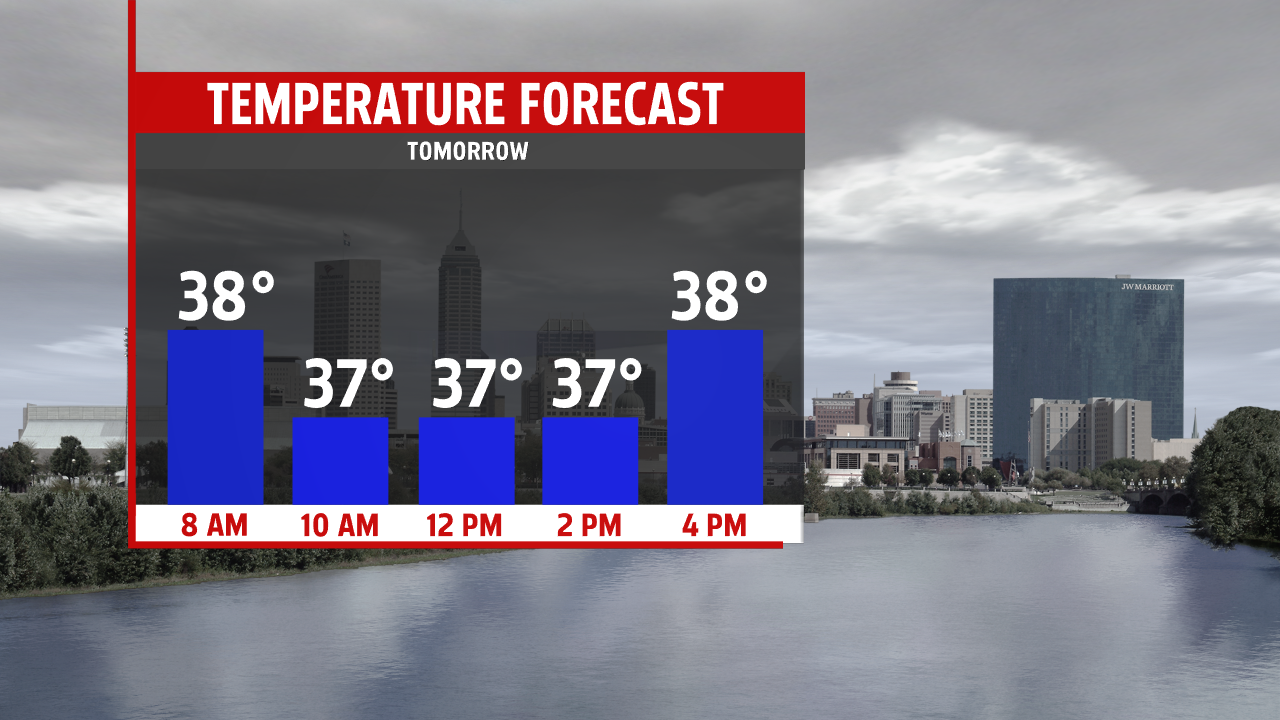 A chance of rain/snow mix will arrive Wednesday with a few flurries possible on New Year's Eve. New Year's Day will be dry but cold with lows in the teens and highs near 30 degrees. --Danielle Dozier