This is an archived article and the information in the article may be outdated. Please look at the time stamp on the story to see when it was last updated.
INDIANAPOLIS, Ind. --Good Saturday afternoon! What a wild past 24 hours it's been! The high temperature was 74 degrees on Friday and set a record-high temperature for the date. It was two degrees shy of tying the all-time record high for February in Indy. Today's temperatures dropped to the upper 20s this afternoon. We had a nearly 50-degree temperature swing!
Today marked a sudden change from the extreme warmth we were feeling. Indy saw eight straight days of 60+ degrees, beating the previous record of seven set back in 1930. February has also brought 10 days of 60+ degrees, also breaking the record of eight from 1976. The previous 15 days in Indianapolis have been above average but that streak ends today as colder air has settled in.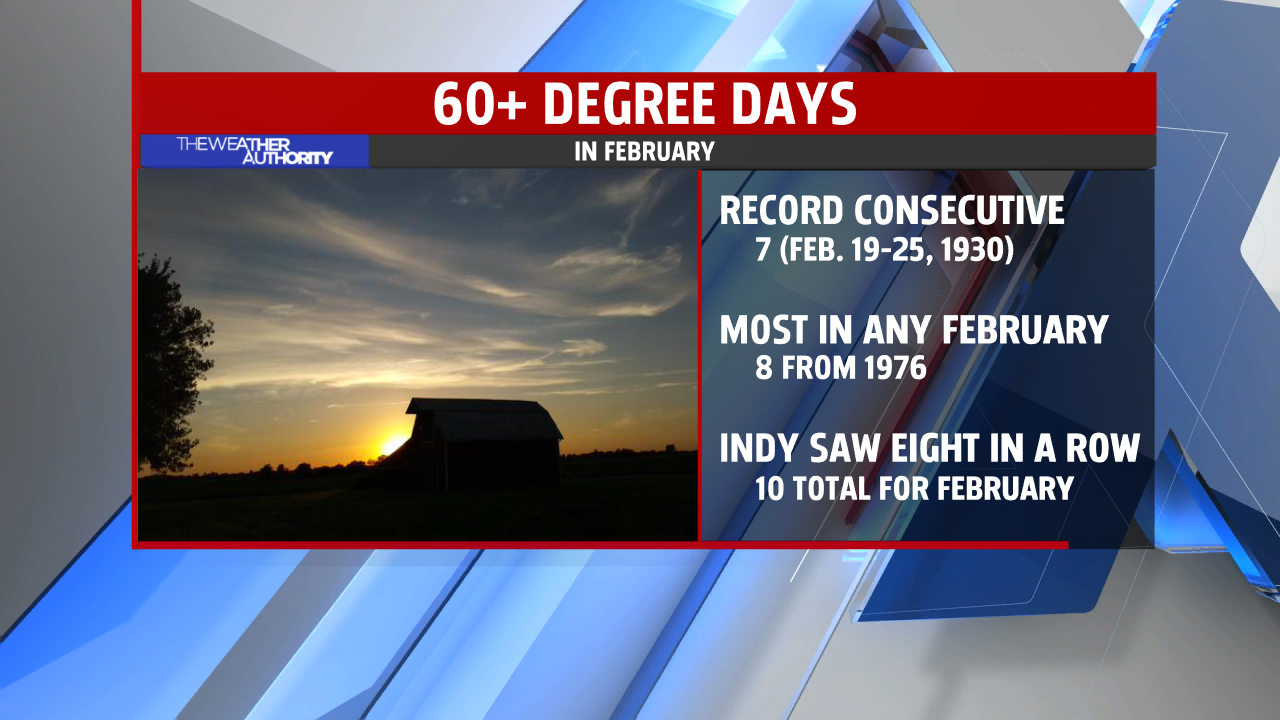 Many in central Indiana saw some rain and even thunderstorms on Friday. Severe weather moved through Greensburg and brought hail. Luckily, Mother Nature had other plans for Indy as we didn't see any severe weather here.
Snow showers greeted Hoosiers this Saturday morning! Check out this picture from Randy from Frankfort! Snow was enough to coat the grass in places but didn't cause major issues on the roads since the ground temperatures have been so warm.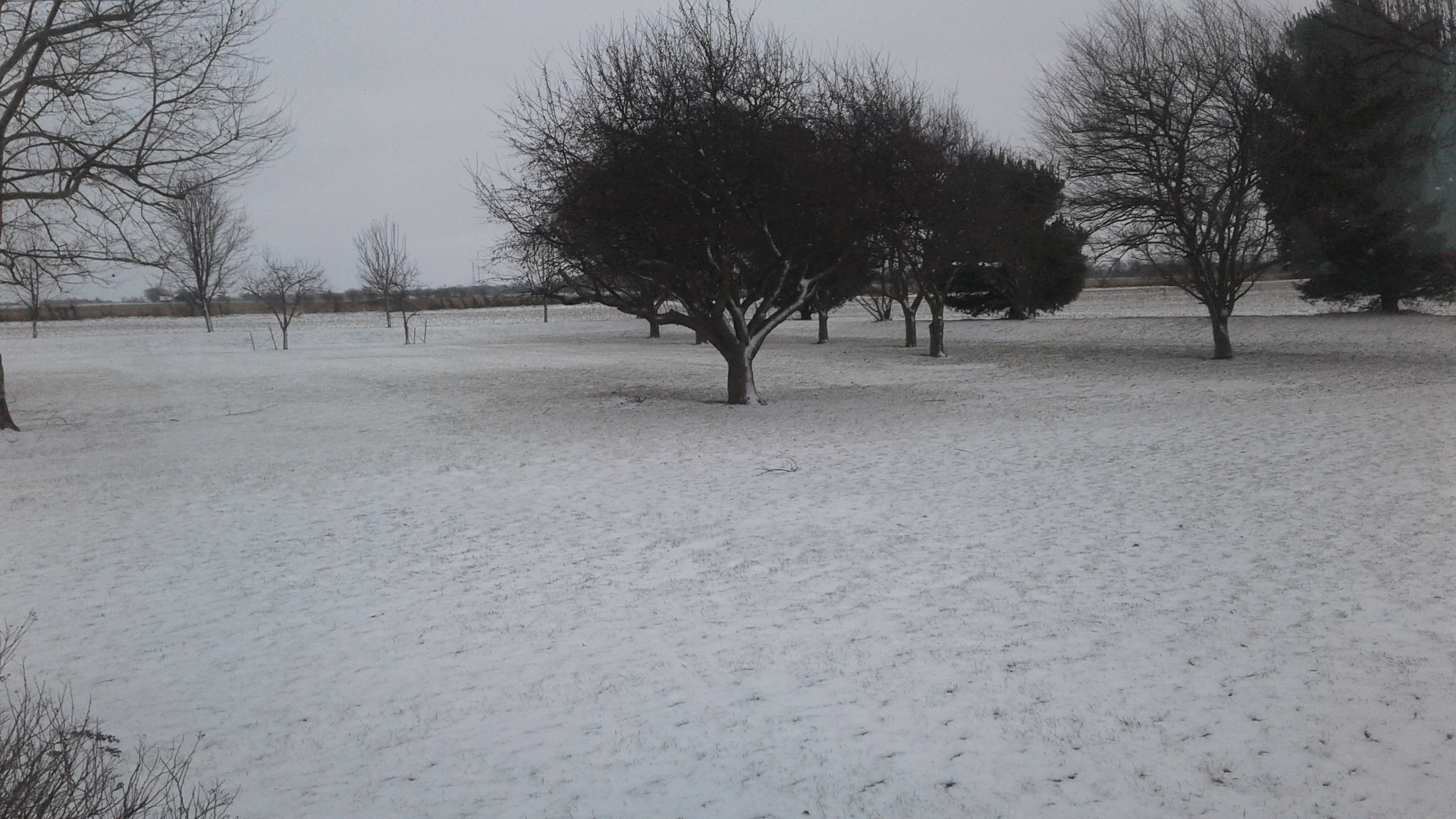 Tonight we'll see the sky turn mostly clear as high pressure builds in. Temperatures will fall to the low 20s and winds will lighten up. Wind chills Sunday morning will be in the upper teens and low 20s. We'll start Sunday with sunshine but increase the clouds through the day. Winds will become breezy in the afternoon with gusts to 25 mph. Highs will be in the upper 40s.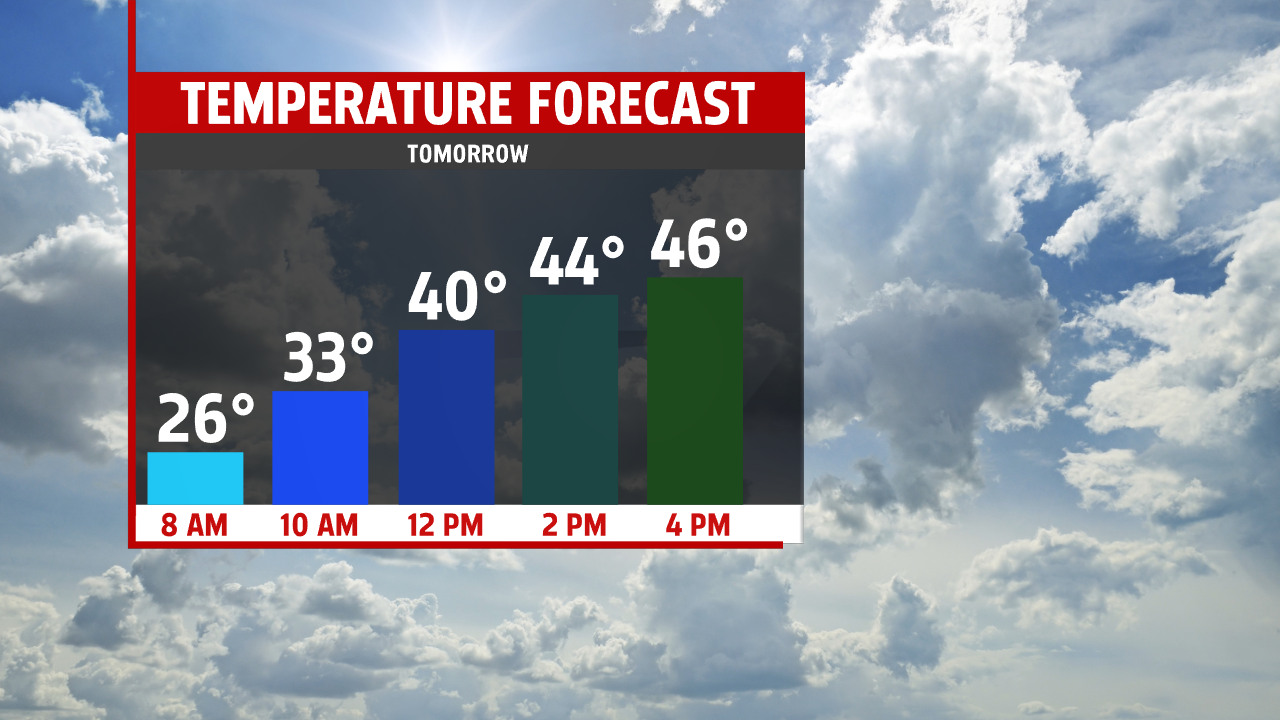 Early Monday morning will bring a slight chance of a rain/snow mix as moisture moves in from the south with temperatures in the mid-30s. However, temperatures will be quick to warm with little-to-no moisture around through the rest of the day. Highs will be in the low 50s on Monday.
Tuesday and Wednesday will turn windy again with highs in the mid-60s. Showers will be around on Tuesday with thunderstorms possible Tuesday night and Wednesday. A cold front will move through Wednesday afternoon and allow temperatures to fall to the low 40s Thursday. There will also be a chance of snow Thursday and Friday as colder air settles into central Indiana. --Danielle Dozier