This is an archived article and the information in the article may be outdated. Please look at the time stamp on the story to see when it was last updated.
TRAVELERS BEWARE!
Parts of Northern Illinois have been upgraded to a Blizzard Warning. Hazardous traveling conditions extend from Kansas, Missouri, Iowa, Illinois, Michigan and Northwest Indiana. This system moves through tonight and will exit tomorrow morning and afternoon. Not before dropping 10+ inches in some spots, mainly in Northwestern Illinois. If you're going to be traveling, be weary that it's not just the road surfaces that will be a concern. Winds gusting near 40 mph, combined with the snow, could cause significantly reduced visibility to whiteout conditions.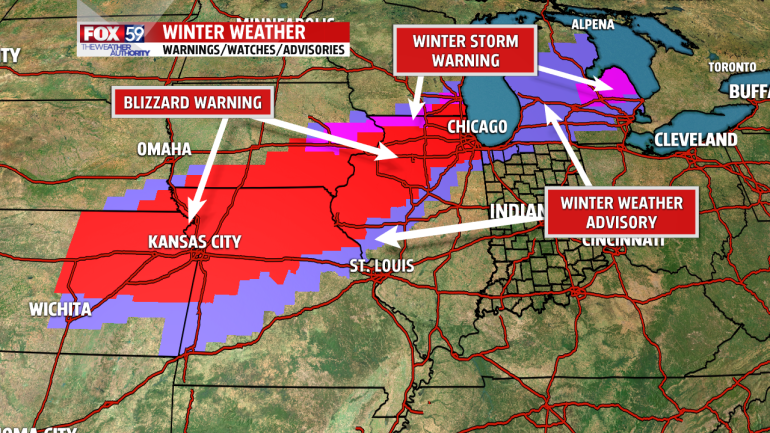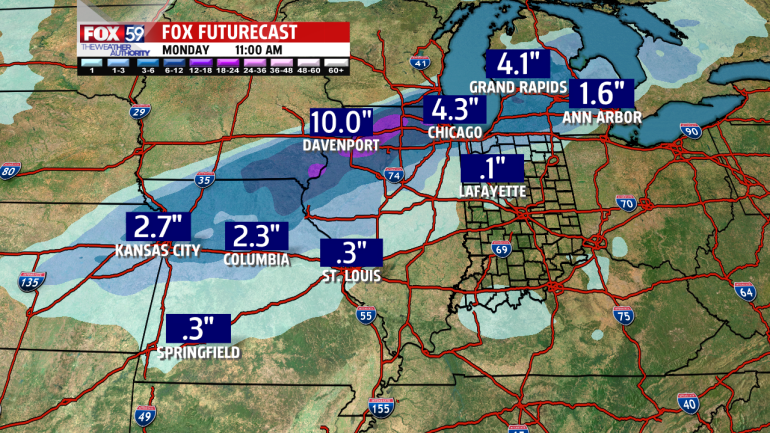 This Winter Storm will bring a heavy band of snow to our north and west, while back home, we'll just see rain showers in Central Indiana tonight. However, as temperatures begin to sharply fall, that rain changes to scattered snow showers by early tomorrow morning. Minimal to no accumulation is expected here. By the afternoon, the bulk of this system will have exited to our north and east but on and off light snow/flurries may continue into Monday afternoon.
Even though snow accumulations looks to be minimal, if any here, commuters should still use caution during the morning drive. Slick spots may develop on the roadways and gusty winds will help reduce visibility in areas with snow coming down.
Get ready for a big change in temperatures! We were right on target today. High temperature in Indy peaked at 59°, a good 12° above average, while areas like Bloomington made it into the lower 60's. Hope you were able to enjoy the warmth. A BIG drop in temperatures comes by tomorrow morning through the next several days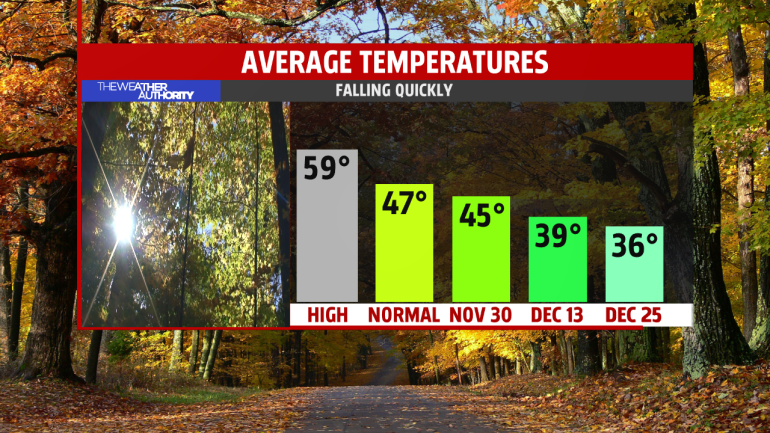 Our high temperature Monday will come at midnight and continue to fall into Monday morning. Plan on temperatures right around freezing by the time you're headed out the door.
We dry out but temperatures stay very cold for the next several days. By Tuesday morning, actual temperatures will drop into the teens while wind chill temperatures drop between 5-10°.