This is an archived article and the information in the article may be outdated. Please look at the time stamp on the story to see when it was last updated.
WEDNESDAY TORNADO UPDATE
The NWS Indianapolis and North Webster continue to asses the damage from the tornadoes on Wednesday.   The total is 5 as of 5:30 pm.  There has been confirmation of a tornado in Indianapolis Wednesday from the NWS.  The location, 25th and LaSalle, near Mass Ave and Sherman.
The Kokomo tornado has been classified as an EF 3, with peak winds 152 mph.  At this time, the NWS have confirmed 2 additional tornadoes in Howard Co, both EF 1 tornadoes.  One SW of Kokomo and the other to the N/NW of Kokomo.
EF-3 in Kokomo
EF-2 in Montgomery County
EF-1 in Carroll/Howard County
EF-1 in SW Howard County
EF-0 in Marion County/NE of downtown Indianapolis
UNSTABLE AIR
Heating up and keeping an eye to our west Thursday afternoon. We topped 90° again – the 23rd of the season and the 8th of the month. August 2016 to date is the 17th warmest on record.
Heat index topped 100° in Columbus this afternoon and the atmosphere is loaded with moist, warm and unstable air. We are watching radar trends to our west for new storm developments. The atmosphere is more than ample to support thunderstorms and more importantly severe storms. What is lacking is a trigger. That is expected to come in the form of an approaching cold front.
OUTLOOK FOR STORMS
The assessment from the storm prediction center has a 'slight risk' for severe storms for a portion of Indiana tonight.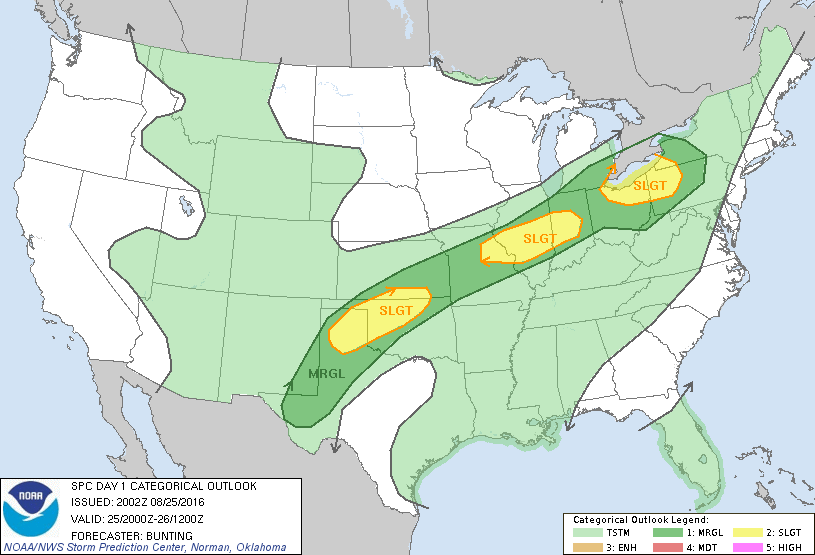 The SPC SREF model probability of severe storms in the previous three hours ending 8 p.m., is showing a severe storm threat from Missouri to Ohio.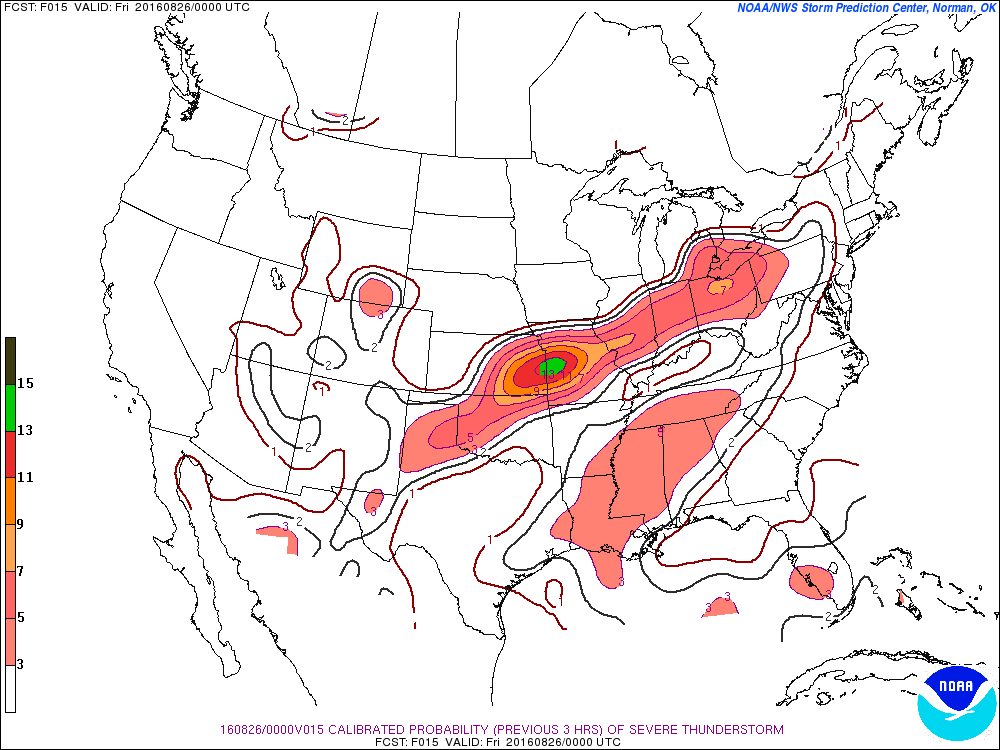 The front will arrive later tonight and we fully expect to see storms fire in advance of it. We currently are bracketing the hours of 7 p.m. through 12 a.m. for storms to move into the western half of the state. The primary threat is damaging wind gusts later tonight.
I'm posting the latest forecast radar for 10 p.m. tonight. Stay alert and stay tuned to FOX59 for updates this evening!