This is an archived article and the information in the article may be outdated. Please look at the time stamp on the story to see when it was last updated.
Happy Thanksgiving! We are starting the holiday with temperatures in the upper 20s and lower 30s across central Indiana! Wind chills have dropped near 20° in the Indianapolis area. Runners participating in the Drumstick Dash or other Thanksgiving Day 5Ks will want to wear layers while waiting for the race to start!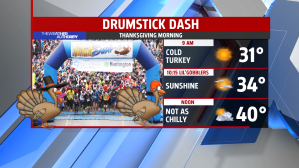 Higher pressure over the Mid-South will provide Indiana with dry weather today. A partly cloudy to mostly sunny sky is expected this afternoon. Temperatures will become more seasonal today with a high near 47 degrees in Indianapolis. The average high for Indianapolis on November 22 is 49 degrees.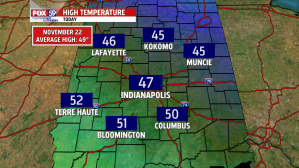 Quiet weather will persist overnight with a mostly clear sky. Temperatures are going to fall back into the lower 30s Friday morning, then jump into the mid-50s in the afternoon. Skies will become mostly cloudy late in the day as our next system approaches the state.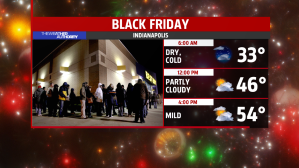 There could be a few rain showers moving into western Indiana during the Circle of Lights celebration. Cannot rule out a stray shower, but skies will turn overcast during the event with temperatures falling into the upper 40s.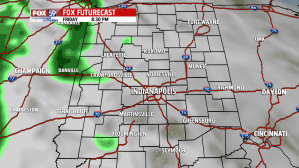 Another system arrives late Sunday and it will bring showers and windy conditions at first. A strong cold front will pass over state Sunday night and it will result in falling temperatures on Monday. Rain showers will turn to a wintry mix and potentially create slick conditions for Monday morning's commute.