This is an archived article and the information in the article may be outdated. Please look at the time stamp on the story to see when it was last updated.
INDIANAPOLIS, Ind. (March 9, 2016)--Good Wednesday afternoon. We had some brief showers this morning but much of the day has been dry as expected up until about 1:30 p.m. Rain will continue to move in from the southwest this evening so plan on having the umbrellas if you're heading out.
Temperatures will fall from the mid-60s this afternoon to the upper 50s this evening. Rain will be likely overnight and could be heavy at times. There's also the possibility of thunder across southern Indiana. Look at all the rain from Texas to Indiana. It's associated with high amounts of moisture in the area. This is what we call an "atmospheric river." It's a plume of low and mid-level moisture that's very narrow in size. Some mets have noted it as the "Maya Express," a sort of spin-off of the term "Pineapple Express" that affects the West Coast. It can be known to bring copious amounts of rain and lead to flooding.
Rain will continue through Thursday with the day being more soggy than Wednesday. Highs will be in the low 60s as a cold front moves through the area. Winds will shift from the south to the north, northwest through the day. Rain will end Thursday evening. Temperatures by Friday morning will only be in the low 40s.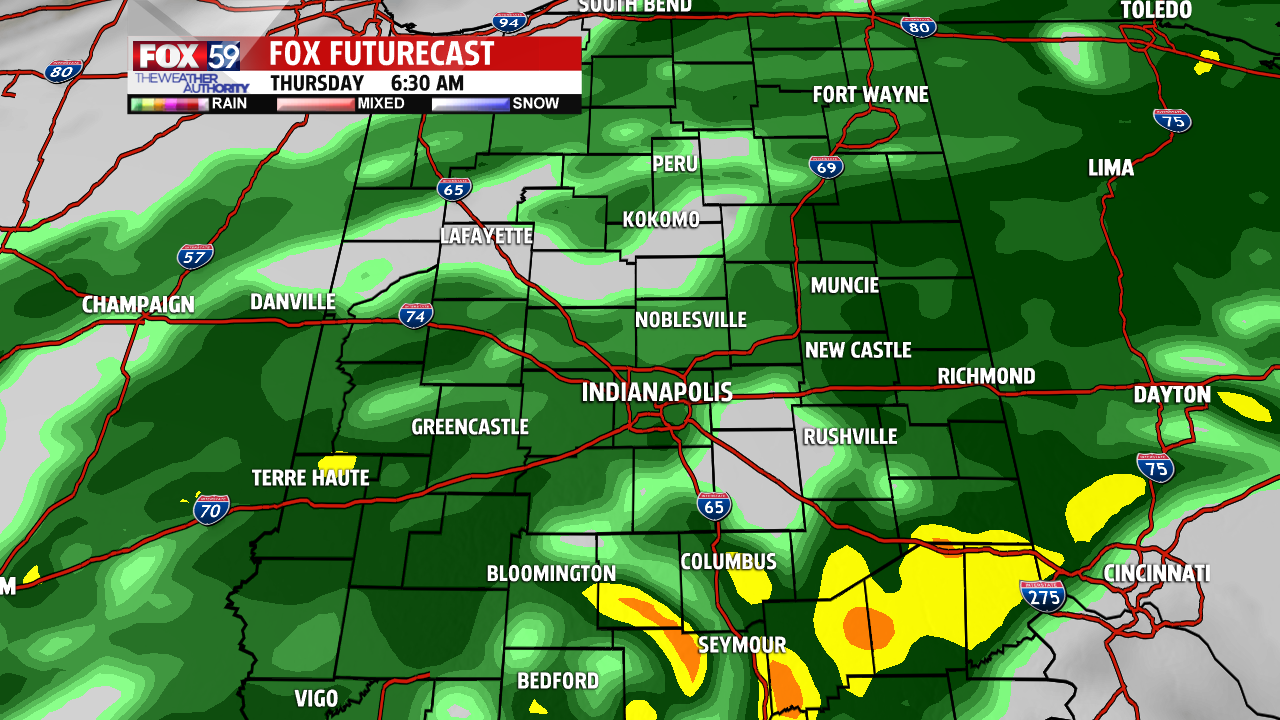 Rainfall amounts of 1-2 inches are still likely across the much of central Indiana through Thursday evening with lesser amounts northwest and higher amounts south. Ponding of water is likely, especially in low-lying areas.

Friday will give way to a mostly sunny sky with highs near 60 degrees. We'll have a warm-up over the weekend with more rain and possible thunderstorms.
Tuesday will spike to the mid-70s ahead of a strong, low-pressure system and cold front. This system will bring a chance of rain and possible thunderstorms on Wednesday with highs near 70 degrees. --Danielle Dozier