This is an archived article and the information in the article may be outdated. Please look at the time stamp on the story to see when it was last updated.
INDIANAPOLIS, Ind. (March 8, 2016)--Good Tuesday afternoon! It's been a warm and breezy afternoon with plenty of sunshine. Temperatures climbed to the low 70s this afternoon. The official high in Indy was 74 degrees and shy of the record 80 degrees from 1974.
High pressure is in control to our east and bringing in a southerly flow to central Indiana. Meanwhile an upper-level low over Mexico is fueling rain and severe weather in Texas. As this upper low moves east into Texas over the next few days, moisture will continue to stream in from the Gulf. Rain will move in as soon as Tuesday night to central Indiana.
Here's a look at Futurecast Wednesday morning.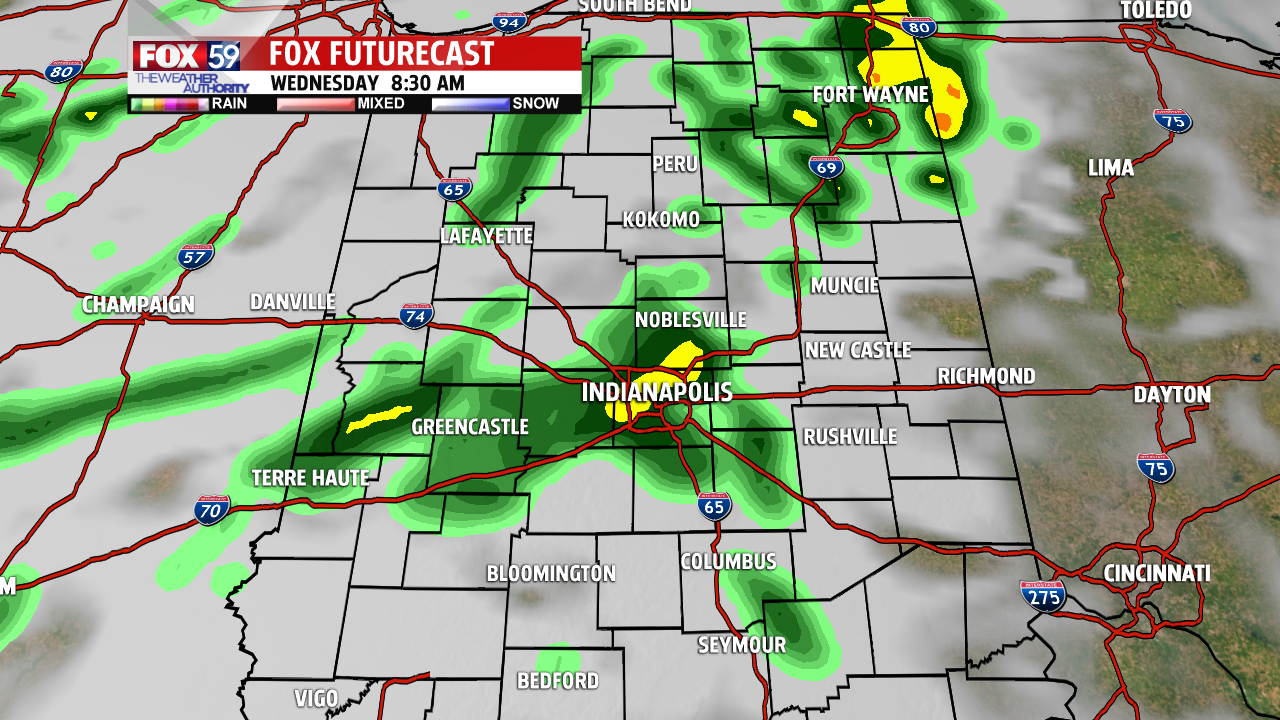 We'll see periods of rain during the day Wednesday with some dry time in between. Winds will be strong and gust as high as 30 mph as temperatures reach near 70 degrees. The record high for Wednesday is 72 degrees from 1878 so Indy will get close to that. Another round of rain and possible t-storms will move in Wednesday night into Thursday. Total rainfall accumulation of 1-2 inches is possible through Thursday evening with isolated higher totals in t-storms.
Temperatures will stay mild this week with the cooler day on Friday thanks to a cold front that will move through Thursday afternoon. Friday looks dry with highs near 60 degrees.
The weekend will bring warm weather too, but rain with possible t-storms will once again move in from the south both Saturday and Sunday. Don't forget, Daylight Saving Time begins Sunday, March 13 at 2 a.m. It's a good idea to set your clocks ahead one hour before bed Saturday night. --Danielle Dozier