This is an archived article and the information in the article may be outdated. Please look at the time stamp on the story to see when it was last updated.
INDIANAPOLIS, Ind. (Dec. 13, 2015)--Good Sunday afternoon! Indy broke another record for high minimum temperature today. The previous record was 52 degrees from 1929 and it's been 55 degrees today and it's not expected to drop below that temperature before midnight. Highs were still well above average and in the low 60s but not enough to break a high temperature record in Indy.
Rain will become more widespread tonight, as a cold front moves through the area. Expect a chance of rain in Indy mainly after 10 p.m. Showers will continue into Monday with the potential of up to 0.50 inches of rainfall. Isolated thunder is also possible and we'll experience strong winds. In fact, winds will be increasing into 9 p.m. Expect gusts up to 35 and 40 mph across central Indiana after midnight and through Monday afternoon.
Temperatures will be in the upper 50s and low 60s at midnight and those should be our high temperatures for Monday. The cold front will allow temperatures to fall through Monday. Temperatures should be in the mid-50s by daybreak and near 50 by 4 p.m.
Tuesday will bring a mostly cloudy sky if the inversion develops as models suggest. Highs will be in the upper 40s and low 50s with west winds 5-15 mph.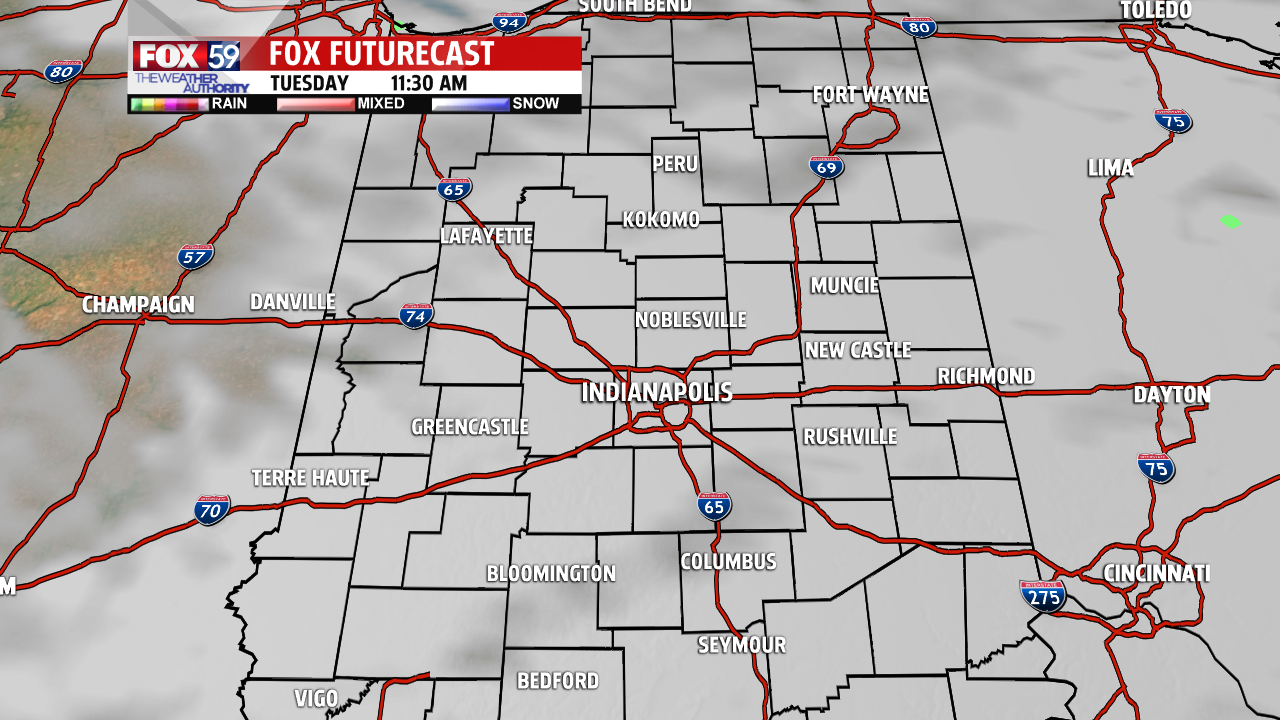 A system that's been affecting the Pacific Northwest this weekend will move through Indiana on Wednesday bringing a chance of showers. Models have been back and forth on how deep the cold air will be and if we'll see any snow out of this. I'll keep a mention of flurries or light snow late Wednesday until we get more of a consensus.
Cold air builds in from the north by Thursday and Friday. Highs on Friday will only be near freezing with a 20 percent chance of light snow.
Highs will struggle to reach 30 degrees into Saturday. --Danielle Dozier