This is an archived article and the information in the article may be outdated. Please look at the time stamp on the story to see when it was last updated.
INDIANAPOLIS, Ind. (Dec. 9, 2015)--Good Wednesday afternoon! I can't believe it's December and it feels so nice outside! Temperatures are in the 50s again today with some sunshine. Temperatures are running about 15 degrees above average today. The upper-level wave has move to our east but no rain fell due to a relatively dry atmosphere.
Tonight will be mostly cloudy with dry conditions and lows in the low 40s. We'll have south, southwest winds 5-10 mph.
Thursday will be a mild afternoon with highs near 60 degrees and breezy south, southwest winds gusting to 25 mph. Expect a partly sunny sky with dry weather.
A warm front will lift across the area on Friday and bring some spotty showers with breezy winds and highs once again near 60 degrees. An upper-level low will move across the Plains through the weekend and lift toward Indiana on Monday. Showers are expected ahead of the low on Saturday with the potential of a t-storm. Breezy southerly winds are expected with temperatures soaring into the mid-60s. Record high maximums and minimums are in jeopardy both Saturday and Sunday. Here are the current record high maximums and minimums.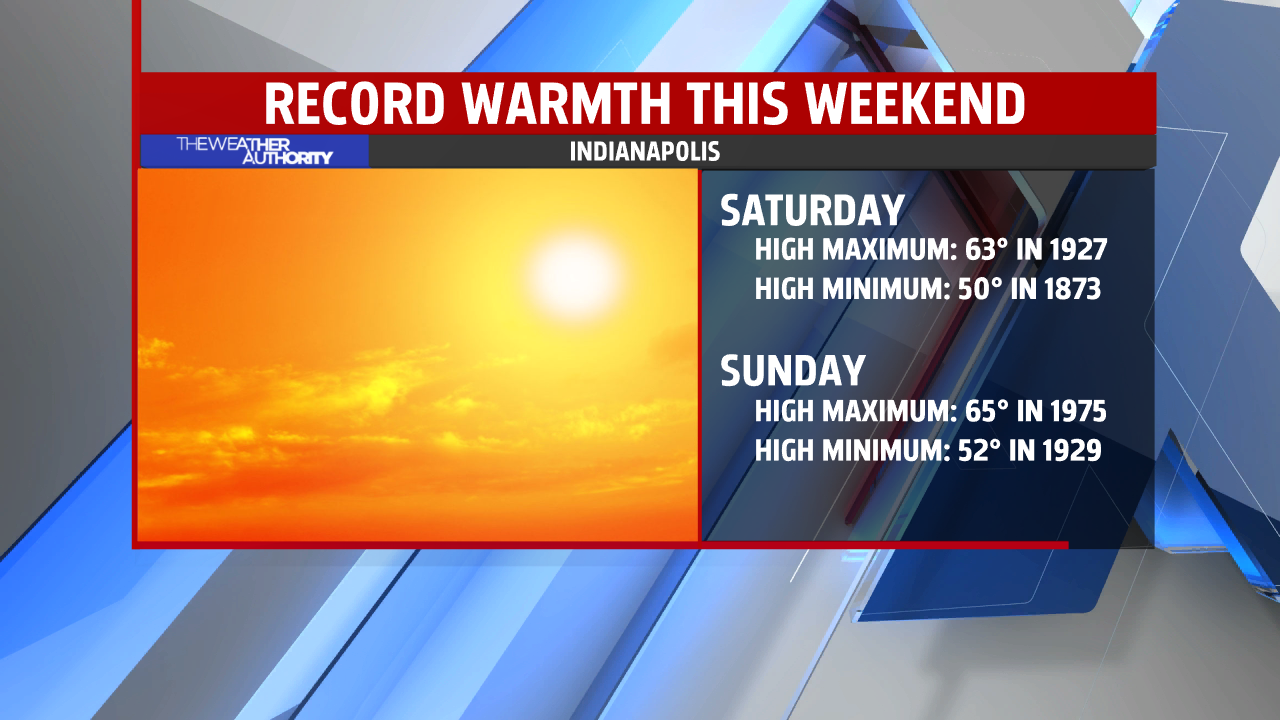 As the storm systems lifts north across Indiana, a cold front will sweep through Sunday night. Expect the heaviest of rain to fall Sunday night into Monday with the potential of a t-storm. Winds will gust as high as 35 mph on Sunday as highs climb to 60s again. Rainfall amounts of around 1 to 1.5 inches are possible Friday into Sunday with locally heavier amounts in t-storms.
As the cold front pushes through early Monday, expect the highest temperatures around midnight Monday in the low 50s and then falling. Monday will also bring strong winds with wind gusts to 35 mph. We'll have some rain too as the low move away from the area.
Tuesday looks dry before another system comes in Wednesday. --Danielle Dozier