This is an archived article and the information in the article may be outdated. Please look at the time stamp on the story to see when it was last updated.
Prepare for a cool and quiet start to Thursday.  Temperatures will fall into the lower to mid-30s for the morning commute under a mostly clear sky. High pressure over the Midwest will provide the Hoosier State with a break from rain and snow. Skies will remain mostly sunny through the afternoon. The full sunshine today will help high temperatures peak into the lower 50s, which is seasonal for mid-March.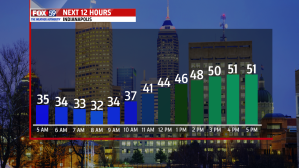 Quiet weather will persist through the overnight hours, but temperatures will fall back into the lower 20s. Cooler air is going to build back into the Indianapolis for Friday and layers will be needed if you plan on attending the St. Patrick's Day Parade. High temperatures will reach into the mid-40s tomorrow afternoon.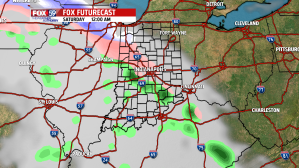 Our next system will approach Indiana on Friday and it will result in more cloud cover. There are going to be several dry hours before the wintry mix arrives Friday night. The precipitation may potentially fall in the form of freezing rain during the predawn hours on Saturday. The icy mix could create slick surfaces early Saturday before turning over to all rainfall.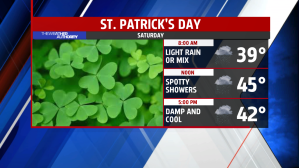 Mild conditions return on Sunday with near-average high temperatures. However, the seasonal weather will be short-lived because another blast of cold air pushes its way back into the state by the middle part of the next work week.