This is an archived article and the information in the article may be outdated. Please look at the time stamp on the story to see when it was last updated.
NEW AT 11 p.m.: The Severe Thunderstorm Watch was allowed to expire at 11 p.m. An isolated severe storm cannot be ruled out and locally heavy rainfall will be a threat through the early overnight hours.
INDIANAPOLIS, Ind. --A Severe Thunderstorm Watch has been issued for portions of central Indiana until 11 p.m. Damaging wind gusts of 70 mph or greater and isolated hail of 1.5 inches in diameter or greater are possible. Locally heavy rainfall will accompany thunderstorms. An isolated tornado cannot be ruled out.
It looks like thunderstorms are starting to develop across northwest Indiana as we near 5 p.m. Thunderstorms will continue to move through this part of the state through 7 p.m. Storms will continue to push south ahead of a cold front and into the Indianapolis metro area sometime between 9 and 11 p.m. Rainfall amounts of a 0.50 to 1 inch are possible in the heaviest storms. Have a way to get weather warnings tonight.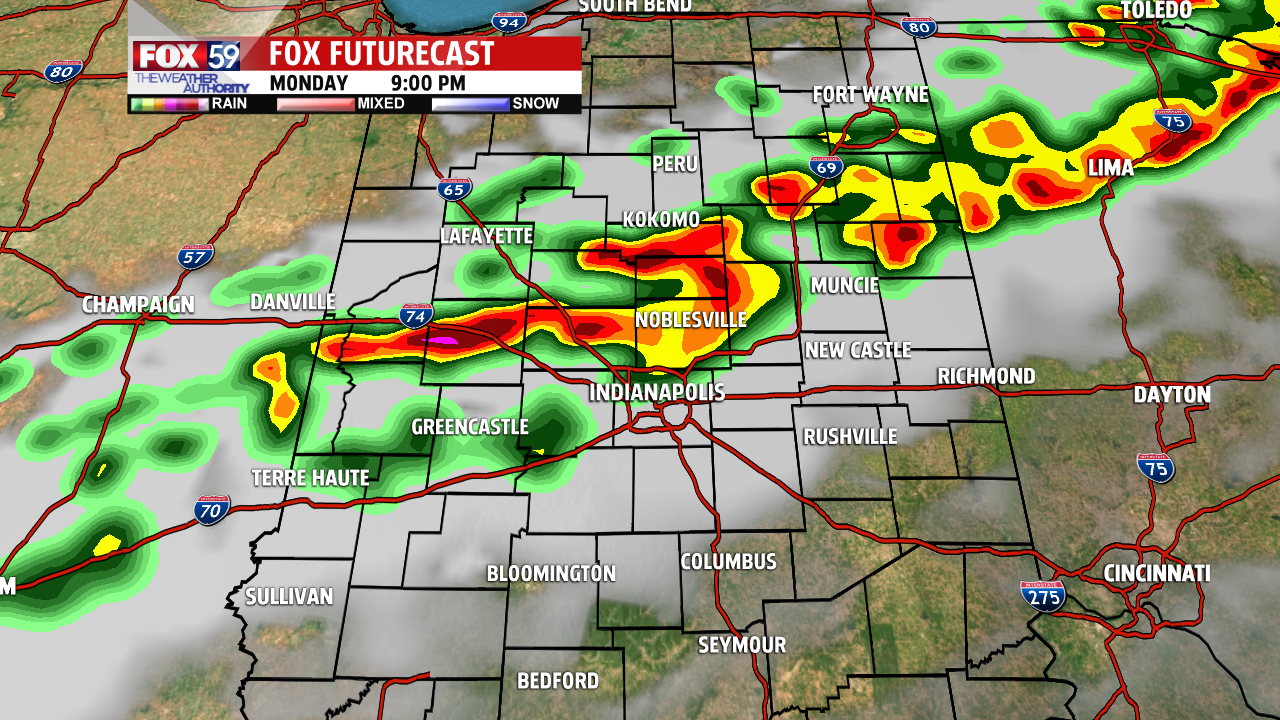 The cold front is slated to move in by 11 p.m. and temperatures will fall to the low 60s tonight. It will stay breezy tonight with thunderstorms ending during the early overnight hours.
Tuesday will be partly sunny with breezy west, northwest winds gusting to 25 mph. Highs will be in the mid-70s. Wednesday and Thursday will bring a slight rain chance as a trough of low pressure digs across the Midwest. Highs through mid-week will reach the upper 60s so we'll have more of a fall feel.
By the end of the week and weekend, temperatures will go back up to the mid to upper 70s with sunshine returning. --Danielle Dozier