This is an archived article and the information in the article may be outdated. Please look at the time stamp on the story to see when it was last updated.
INDIANAPOLIS, Ind. --Good Tuesday afternoon! It's been a cooler day with temperatures in the upper 50s and low 60s and gusty winds. We've seen a few sprinkles around and we'll have that chance through about 6 p.m.
Tonight expect lows in the mid-40s with a mostly cloudy sky and east breeze at 10 to 20 mph.
Wednesday will bring a risk for severe weather to central Indiana. We've been talking about this risk for days. The ingredients in the atmosphere favor the threats of large hail, damaging winds and/or a few tornadoes. The Storm Prediction Center has much of central Indiana in a slight and enhanced risk with the enhanced risk set up near and south of Indianapolis.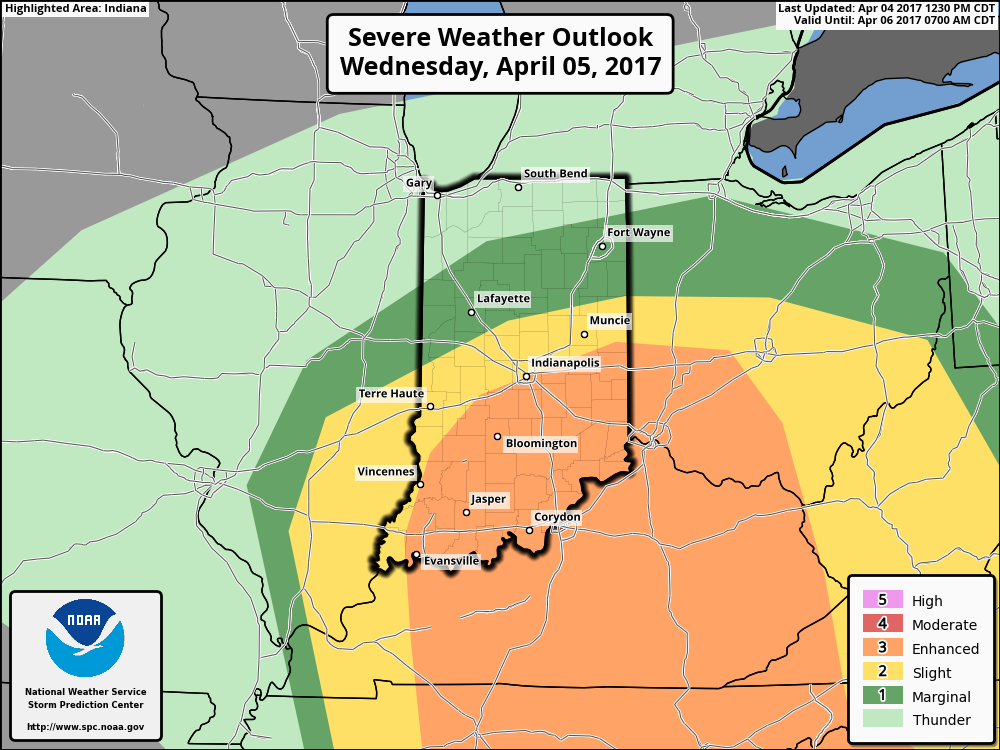 Timing for potential severe weather will be from near 2 p.m. until about 10 p.m. across central Indiana. A strong, low-pressure system will move up through the Plains and Midwest through Wednesday. A warm front will lift north through southern Indiana into central Indiana with temperatures surging into the mid to upper 60s and near 70 degrees. Moisture looks to return with dew points in the 50s, possible 60s down south. The combination of warm, humid air along with strong winds in the mid and low levels of the atmosphere will favor the severe threat later in the day.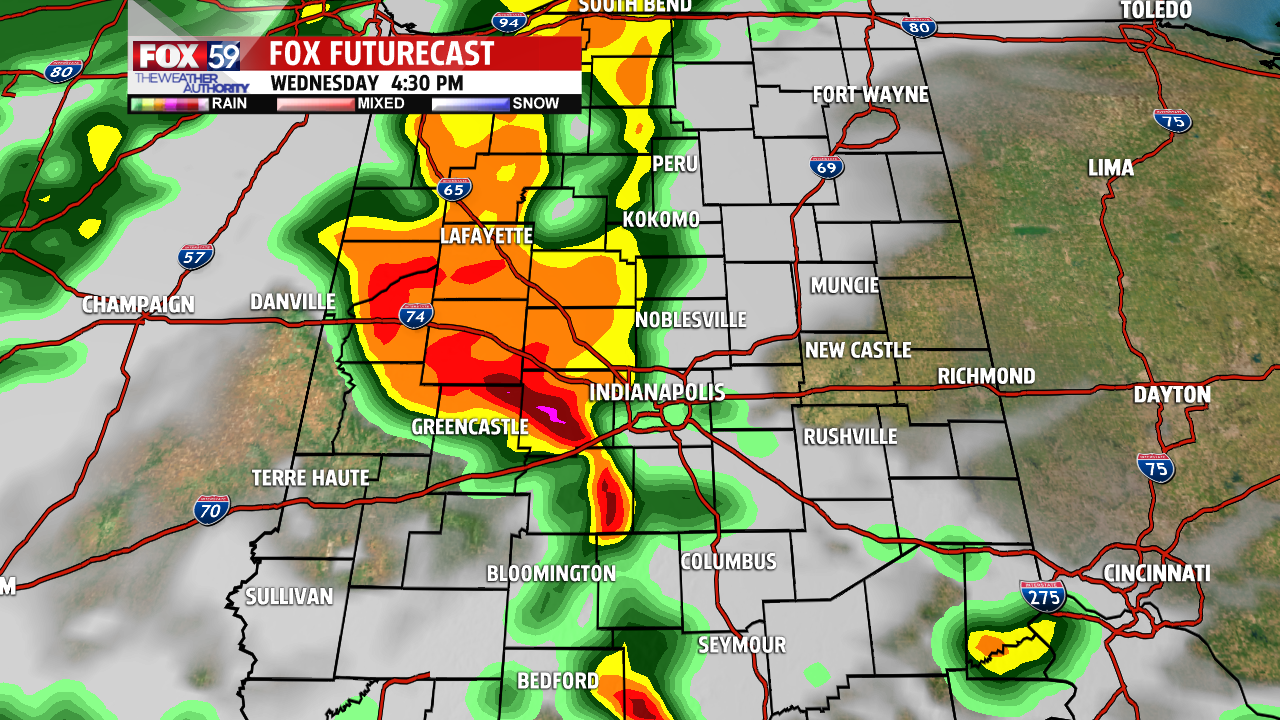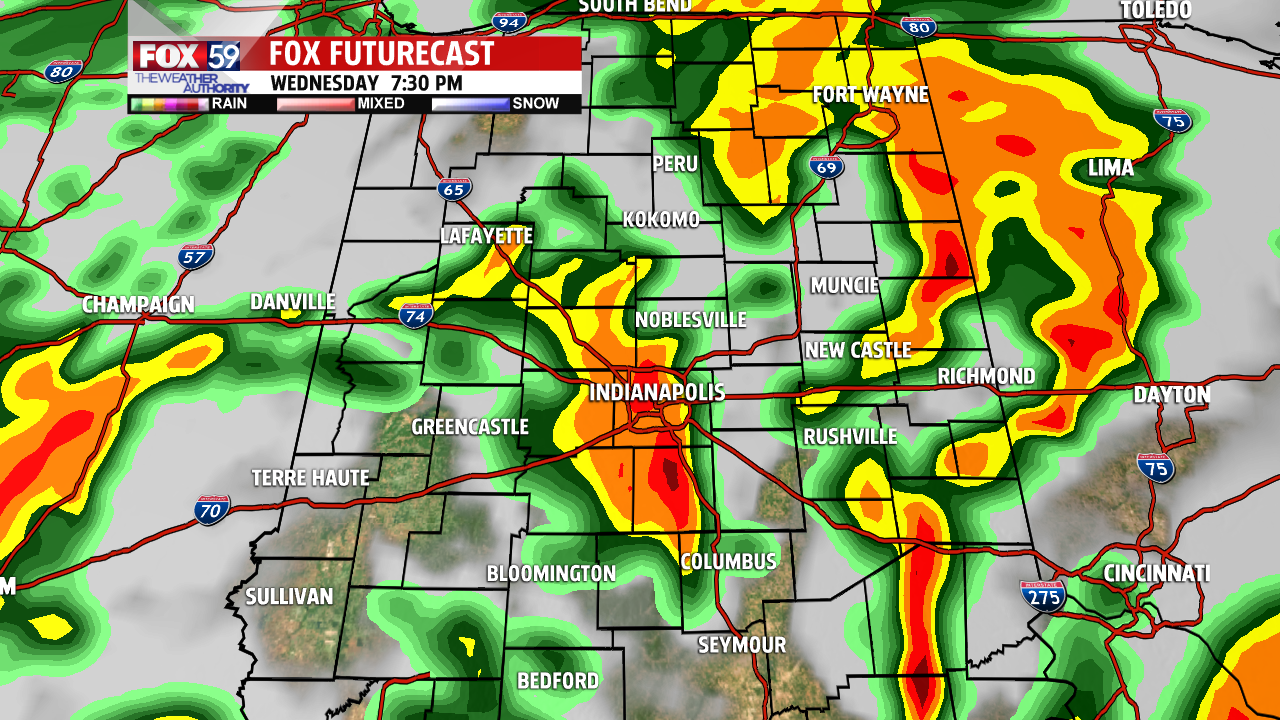 It's important to have a way to get weather warnings either via the TV, radio or weather radio, or your favorite app on your cell phone. Also have a plan in place to seek shelter should a tornado warning be issued. Aside from the severe threat, winds will be strong outside of any thunderstorms and gust to 30 mph.
Big changes are in the forecast for Thursday.
Once the low pressure moves through, cold air will filter in on the back side. The air will be much colder than what we've felt lately with temperatures falling from the upper 50s overnight Wednesday into Thursday down into the low 40s by daybreak Thursday. Temperatures will continue to fall through the day and it will be windy and wet. A rather raw day is shaping up Thursday as gusts could be near 40 mph.
While rain may briefly mix with snow at times Thursday morning, the best chance of snow will be Thursday night into Friday morning. No snow accumulation is expected at this time as the ground temperatures are still warm. Highs on Friday will climb to near 50 degrees after lows near freezing.
The weekend looks great with sunshine and highs in the 60s Saturday and low 70s Sunday. --Danielle Dozier