This is an archived article and the information in the article may be outdated. Please look at the time stamp on the story to see when it was last updated.
SNOW DEVELOPS TONIGHT
We are dry for the evening commute but snow will arrive later Monday night. It is a fast moving system and when it starts, snow may fall rather quickly, but this system will move out fast. Snowfall will reach its peak after 10 p.m. and is expected to end well before sunrise.
If travelling late tonight, visibility will be reduced and roads will get slick fast, especially if headed northwest toward Chicago. Snow will cut off quickly in the early morning hours but not before a fresh coating of as much as 2 inches have fallen.
SNOW ACCUMULATION
Off 10 various snowfall machines, the average snowfall for Indianapolis is 1.2 inches with a range from .7 to 2.9 inches. I'm posting below the probability of 1 inch or greater of snowfall off the NWS ensemble forecast ending 7 a.m. Tuesday.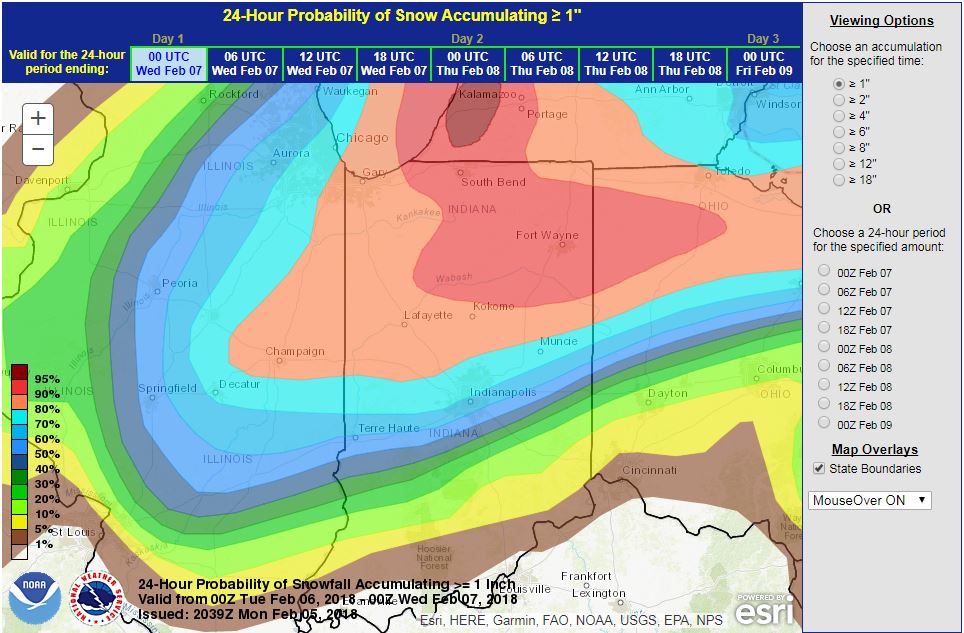 Amounts will vary widely with lesser amounts south and perhaps 2 inches in areas north. A Winter Weather Advisory is in effect over the northern quarter of the state until 2 a.m. for as much as 3 to 5 inches in far northwest Indiana.