This is an archived article and the information in the article may be outdated. Please look at the time stamp on the story to see when it was last updated.
Prepare for a chilly morning across central Indiana with temperatures in the upper 20s and lower 30s. Indianapolis officially broke the record low for today at 30°. The record was set back in 1976 and 1977 at 31°. There is a Freeze Warning in effect through 8 a.m. EDT. Widespread frost is expected this morning because of the clear skies, chilly temperatures and calm conditions.
High pressure over the Midwest will keep the area dry for another day with full sunshine through the afternoon! Highs this afternoon will be a couple degrees warmer compared to Saturday and will reach into the lower 60s.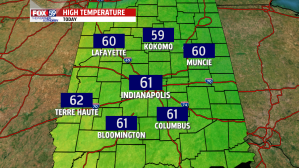 Quiet weather will carry into the beginning of the work week. The wind direction is going to shift out of the south tonight and pick up in speed on Monday. The southerly wind flow will help temperatures drive up into the mid-70s on Monday and into the 80s by the middle part of the work week!
Forecast models are picking up a slight chance for rain late Wednesday, but there is going to be a better chance for scattered showers and thunderstorms by Thursday. A cold front will travel over the state late in the week and allow temperatures to drop on Friday.