This is an archived article and the information in the article may be outdated. Please look at the time stamp on the story to see when it was last updated.
Scattered rainfall has moved into central Indiana this morning. Scattered showers and potentially a thunderstorm may fire up at times today. Severe weather is not expected, but an occasional heavy downpour, lightning and gusty winds will be possible. If you are going to the IPL 500 Festival Parade today, be sure to have an umbrella and keep an eye on the radar! Temperatures are going to be in the lower 80s during the event. Highs will reach the mid-80s this afternoon.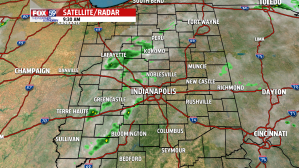 A lingering shower or thunderstorm will be possible early in the evening, but much of the area will begin to dry out overnight with skies becoming partly cloudy. Expect another mild morning with lows near 70°.
The forecast for the Indianapolis 500 is looking mainly dry and very hot! At the start of the race, temperatures will rise into the mid-80s. Highs will climb into the upper 80s and lower 90s with a heat index near 95°. A forecast high of 90° will make it one of the hottest Indy 500s on record! There have only been six races that have reached the 90° mark. Be sure to stay hydrated and dress for uncomfortably warm conditions! Forecast models are still showing a very slight chance for a couple showers or thunderstorms tomorrow.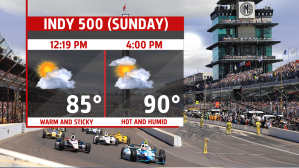 Memorial Day will be hot and humid as well with a high of 91° for Indianapolis! The 90s will remain in the forecast through Tuesday with temperatures slightly dropping by the middle part of next week. We are closely watching a subtropical system in the Caribbean that could bring scattered showers and thunderstorms to Indiana by next Wednesday. Alberto is the first named storm in the Atlantic for 2018 and is expected to bring significant rainfall to the Gulf Coast early in the week. The path may adjust in the upcoming days, so be sure to stay tuned for more updates with next week's rain chances.