This is an archived article and the information in the article may be outdated. Please look at the time stamp on the story to see when it was last updated.
INDIANAPOLIS, Ind. (Feb. 24, 2016)–Good Wednesday afternoon! We've been tracking rain, freezing rain, sleet and snow all across the state this afternoon. As of 1:45 p.m., West Lafayette had seen five inches of snow with six inches of snow in Delphi up in Carroll County. There have also been power outages reported across northern Indiana with high winds, freezing rain and blowing snow. Parts of northwest Indiana are under a Blizzard Warning until 10 p.m. tonight.

A Winter Storm Warning is in effect for portions of western and north-central Indiana until 1 p.m. Thursday.
A Winter Weather Advisory is in effect for Marion County and areas in purple until 1 p.m. Thursday.
The transition from rain to sleet or snow will take place in Indy sometime between 3 p.m. and 4 p.m. This will make the evening commute rather slick, especially in areas with heavy sleet or snow.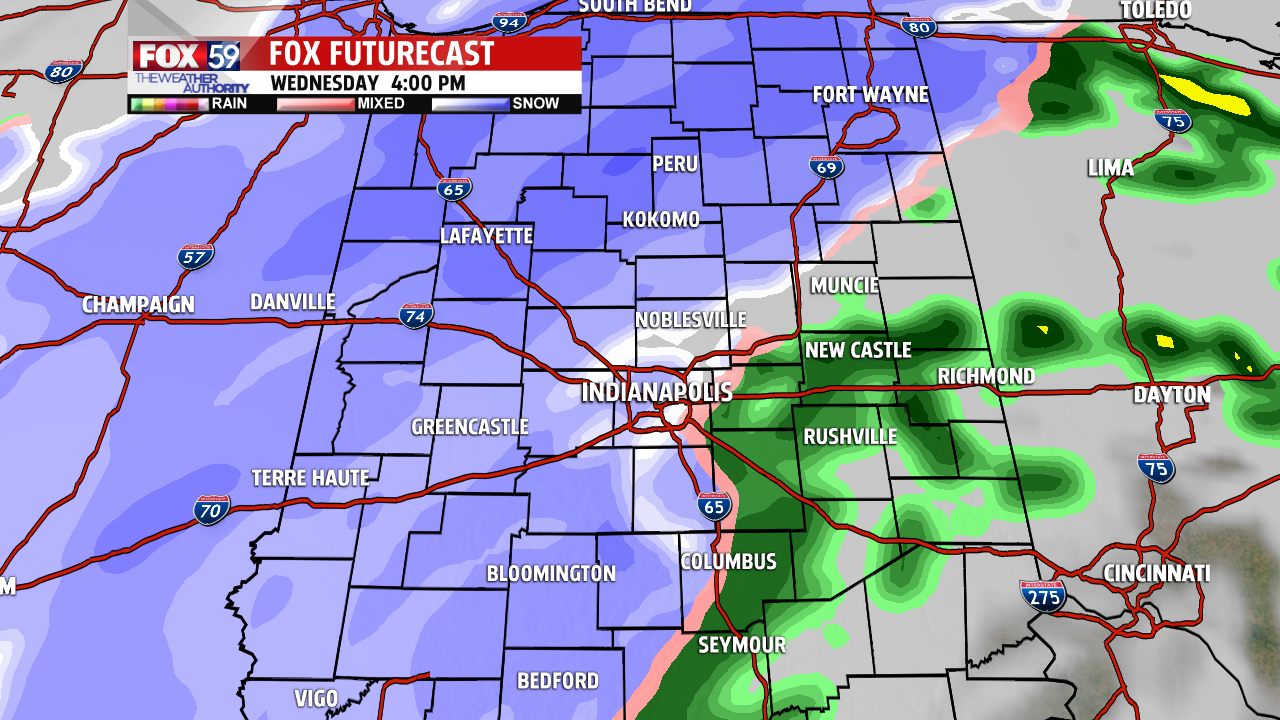 Snow will continue tonight through Thursday morning and taper during the day Thursday. Snowfall totals have been nudged up just a bit for northwestern sections with Indy still expected to see anywhere from 1-3 inches of snowfall.
Strong winds will continue to lead to whiteout conditions in spots with gusts to nearly 40-45 mph this evening. Lows will be in the low 30s with highs Thursday in the mid-30s. Friday will bring flurries with highs in the low 30s.
The weekend will bring sunshine on Saturday with highs in the upper 40s. Another low-pressure system will bring a chance of rain in the afternoon or evening Sunday with strong winds and highs near 60 degrees. –Danielle Dozier