This is an archived article and the information in the article may be outdated. Please look at the time stamp on the story to see when it was last updated.
We are tracking another cold morning across central Indiana. Skies are mostly clear and temperatures fell into the mid-20s. The northeasterly winds between 10-15 MPH are created wind chills in the upper teens. You will want to grab a heavy coat as they head out the door this morning! If you plan on going to the St. Patrick's Day Parade, it will be cool with temperatures near 40° at the start.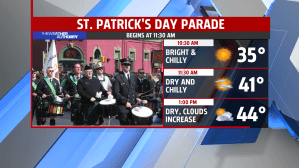 Much of your Friday is going to remain dry, but we are tracking a system that will arrive late tonight. Before the rainfall arrives, cloud cover will build back into the state. Skies will turn partly sunny as you head home from work today. Temperatures will also be slightly cooler during the afternoon with highs in the upper 40s.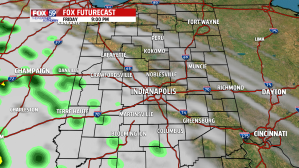 Our next system arrives tonight and it will bring a chance for an icy mix. Rain showers will transition to freezing rain as temperatures fall through the overnight hours. Up to 0.10" of ice accumulation will be possible for those under the Winter Weather Advisory. The advisory will go into effect Saturday at midnight EDT and is scheduled to expire at 9 a.m. EDT. Be prepared for slick spots early tomorrow!
The wintry mix will transition to all rain showers Saturday morning. The scattered showers will linger throughout the holiday, then exit Saturday night. Cloud cover will quickly decrease behind the system and skies will become mostly sunny on Sunday!