This is an archived article and the information in the article may be outdated. Please look at the time stamp on the story to see when it was last updated.
WARMTH FADES
Temperatures are taking a dive Wednesday night as brisk, southwest winds blow.  By 6 PM temperatures have dropped into the upper 30s over western Indiana and the colder air is spreading east.
The early high of 54° will be a distant memory come early Thursday morning.  Grab the heavy coats, scarf and gloves.  Thursday, the first day of December will look and feel like it.  A chance of flurries overnight and early Thursday along with a wind chill near 20 degrees!
FALL ENDS - HEADED FOR THE RECORD BOOKS
The end of fall is unofficially here.  The months of September, October and November are considered meteorological fall and Wednesday is the last day.  November ends as the 8th warmest on record just nosing out last year by .2°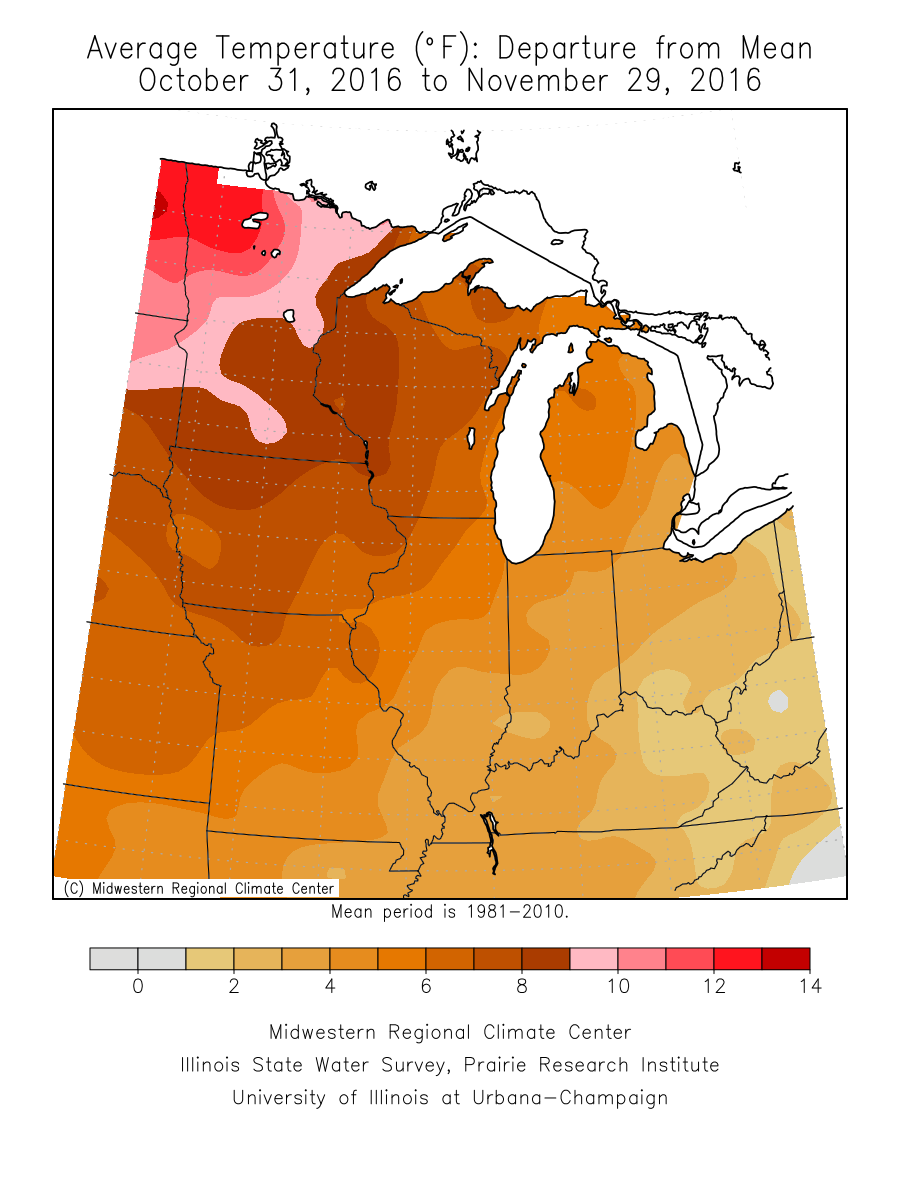 This Autumn was a amazingly warm one!  75% of the days averaged above normal, and at times way above normal with 71 days topping 60° or warmer - the most since 1971 and just shy of 1931's 73 days.
Preliminary, the 2016 average temperature failed to overtake the warmest fall ever also set in 1931.  This fall will go in as the second warmest shy of 1931 by 1.3°.  The average of 60° ( high and low temperatures combined then divided) is the warmest in 85 years.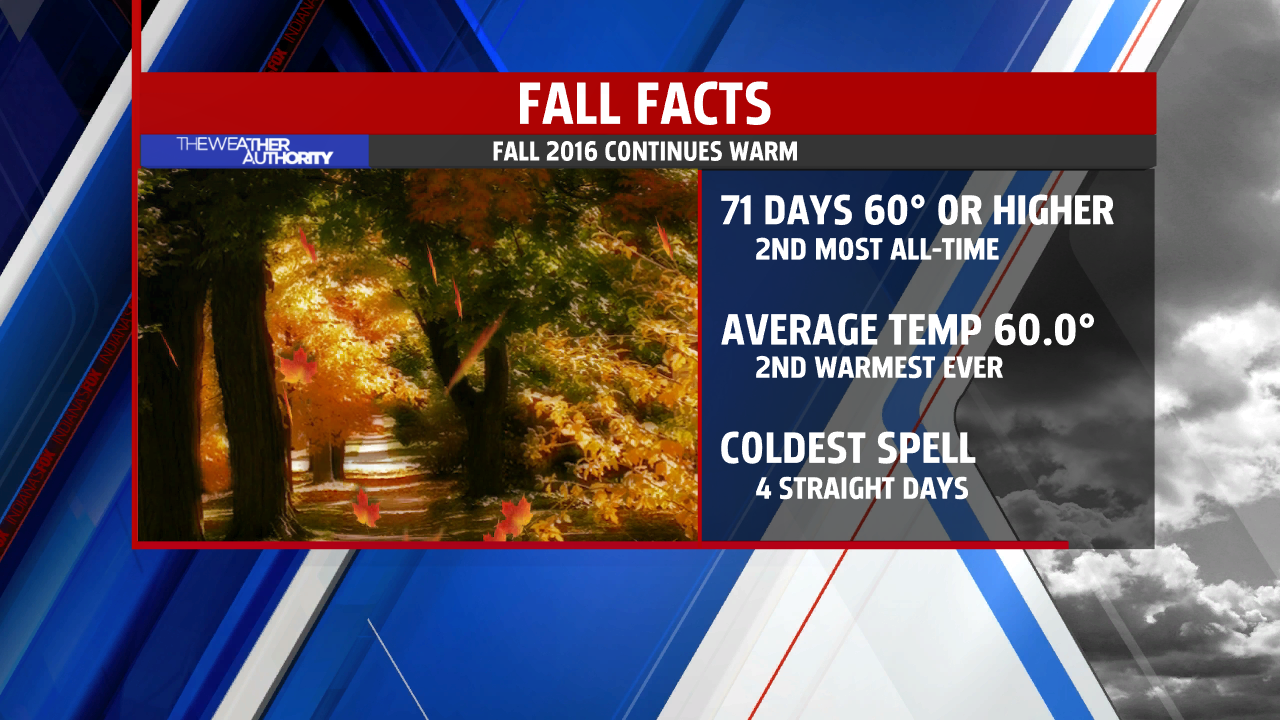 COLDER TIMES COMING
Welcome to December and right on cue, cold is taking hold.  The next several afternoons will be brisk and chilly with afternoon temperatures struggling to make the middle 40s.  A new pattern is talking shape and the pattern going forward is looking rather active.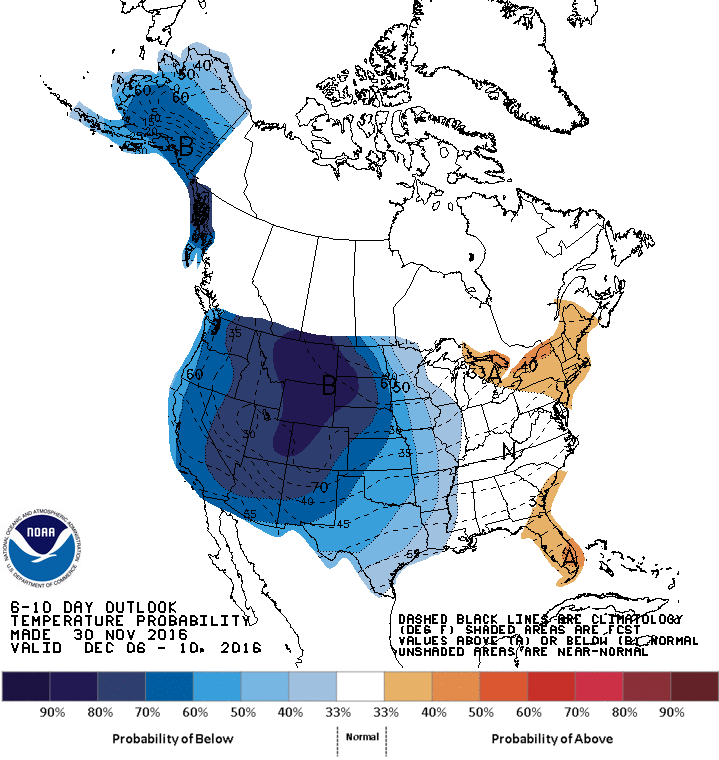 Big temperature swings are often bring big storms, with wide reaching effects from blizzard conditions to severe weather outbreaks all in one.  Sound familiar?  Two such storms have shown up over the past three weeks and may be the footprint of the upcoming winter.  Volatile weather swings are likely and may unfold again next week.  Stay tuned!  A windy, wet warm up could precede the first arctic blast of the season by the middle of next week.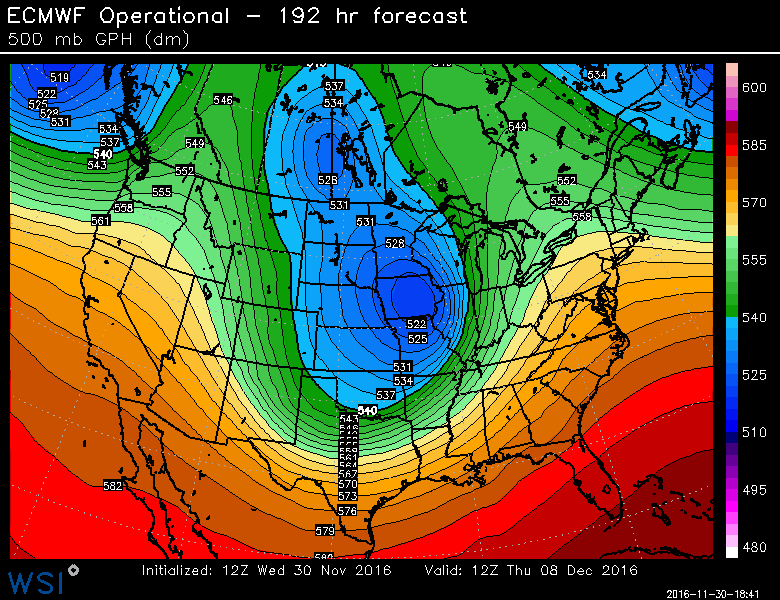 DECEMBER OUTLOOK
The latest 30 day outlook from the National Weather Service is taking in to account the upcoming active pattern and has been adjusted accordingly.  While indications are split for above or below normal temperatures here, the probability for colder than normal air has gone up out west.  Wild temp swings here are looking likely over the first two weeks of December, but this forecaster feels that 'colder than normal' temperatures may win out as the month wears on.
The updated December precipitation outlook is also posted below.  The probability is higher for wetter than normal conditions.  Will this translate to more snow?  Cannot say at this distance but with potential big temperature swings, and frequently strong storms
There is a chance we will get our share of snow.  Only time will tell but be sure to check in on the latest Long Ranger 7 day forecasts each night!