This is an archived article and the information in the article may be outdated. Please look at the time stamp on the story to see when it was last updated.
INDIANAPOLIS, Ind. (Feb. 23, 2016)–Good Tuesday afternoon! I hope you're enjoying this afternoon's weather because things are changing tonight. A strong low-pressure system will be moving in from the south and bringing a lot of moisture and wind with it tonight through Thursday.
A Winter Storm Warning is in effect for parts of central and northwest Indiana until 1 p.m. Thursday.
A Winter Weather Advisory is in effect for Marion County and other areas in purple until 1 p.m. Thursday.
Tonight expect a chance of rain, mainly after 11 p.m. in Indy with the heaviest moving in overnight. Latest model data suggests that while Indy should stay above freezing tonight, areas to the north may see pockets of freezing rain as surface temperatures cool to near 32 degrees.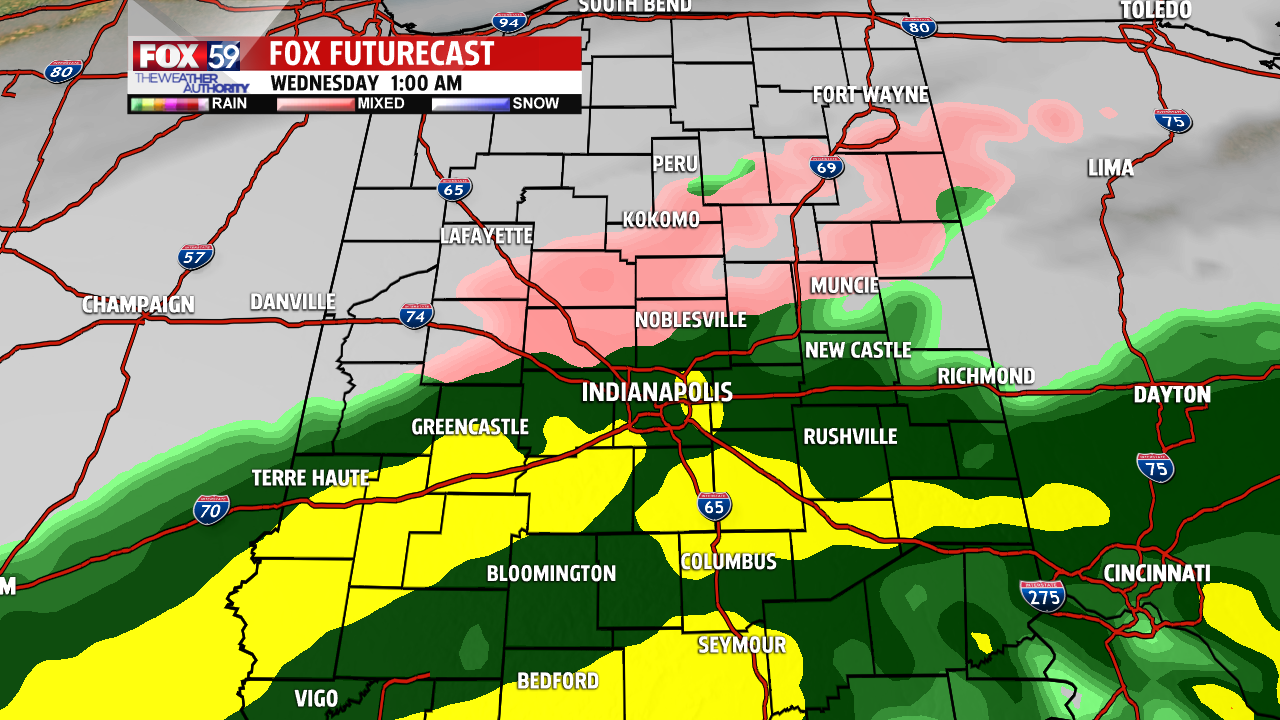 As we go into Wednesday morning, areas near and northwest of Lafayette will begin to see a transition from rain to sleet and snow. Expect a wet commute across much of central Indiana Wednesday morning.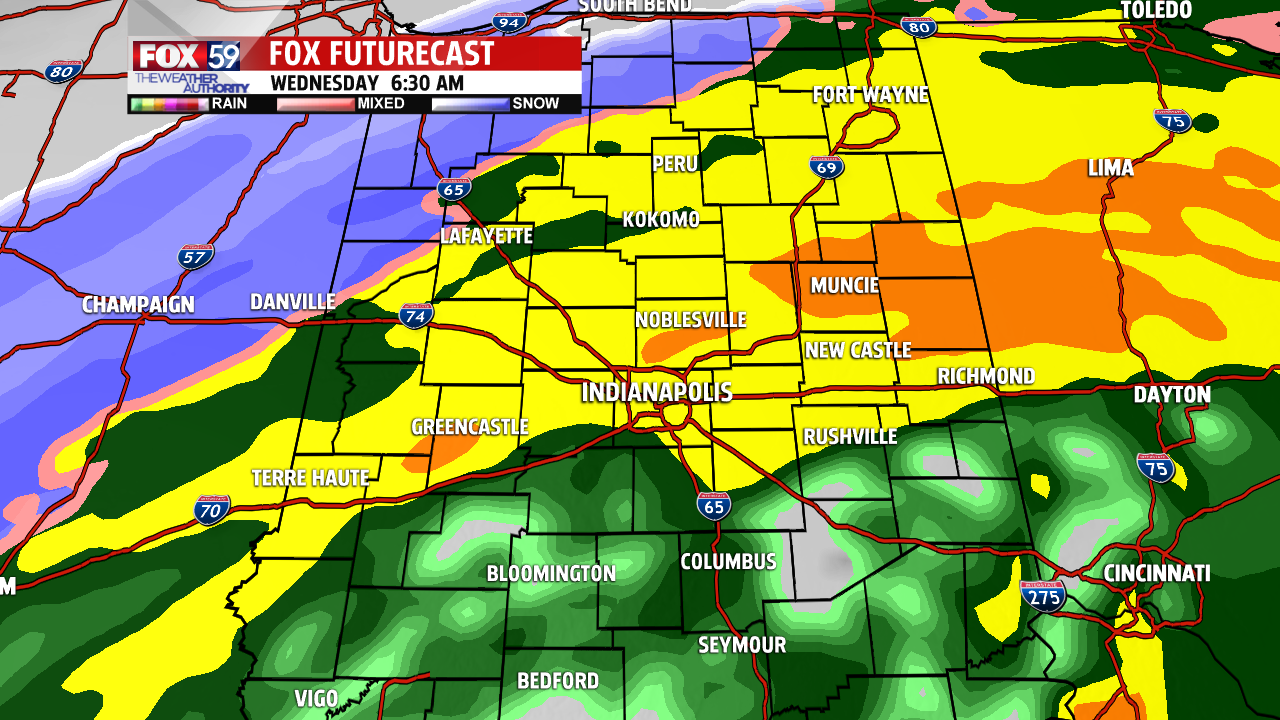 Through the afternoon, as cold air wraps around the low, expect rain to mix with sleet at times in Indy. Snow will still be flying across northwest Indiana at this point.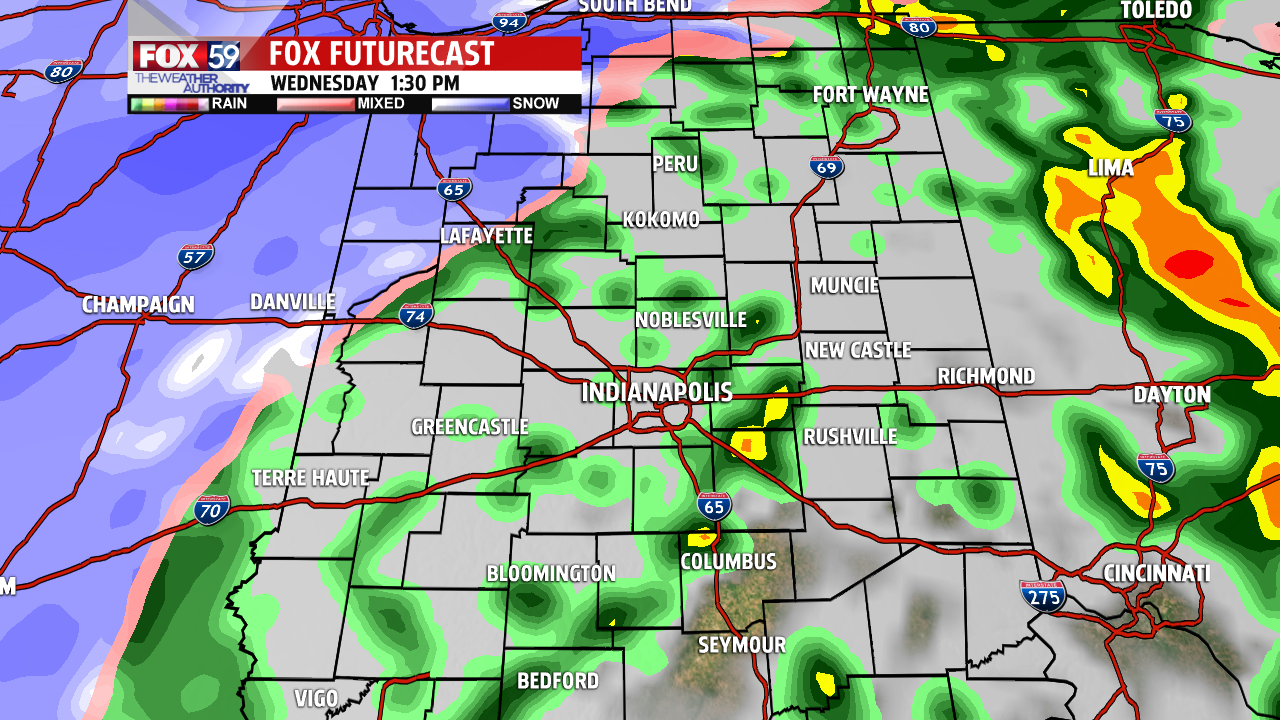 Rain and sleet will mix with snow in Indy mainly after 7 p.m. while areas west and north should be seeing mainly snow.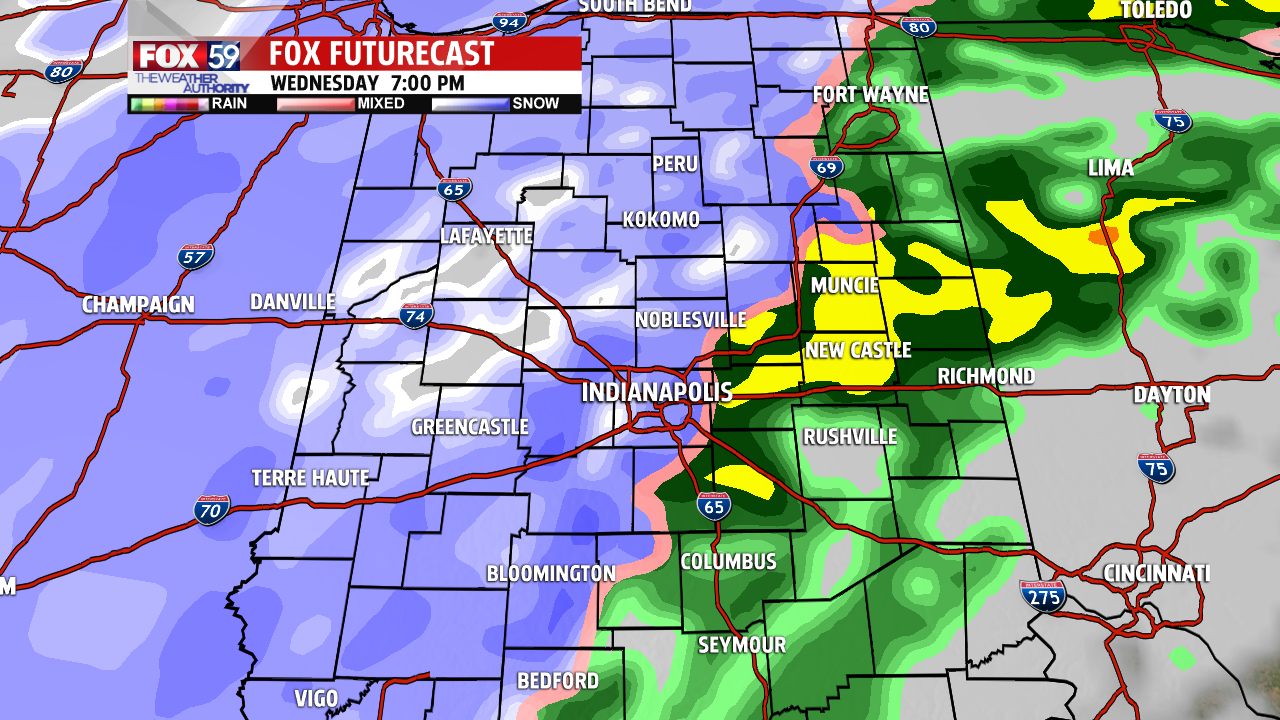 Snow will continue to fall through Thursday afternoon. Winds will be very strong tonight with areas of sideways rain and blowing snow. Winds will be northeast 15-25 mph with gusts to 40 mph. Winds will increase to 30 mph sustained with gusts to 40 and possible 50 mph Wednesday morning.
Rainfall amounts of 1-2 inches are possible through Wednesday evening. Some locations may see isolated higher totals.
As for snow amounts, it's tricky. Anytime warm air gets pulled into a system that has this much moisture, it can greatly impact snow totals. This is because often times models can't handle the cold air and therefore the timing of the transition from rain to snow can vary. Depending on when that happens will thus impact snow totals. The track of the low will also play a role in how much snow we see.
Right now, it appears that 1-3 inches of snow may fall in Indy through Thursday afternoon with a sharp cut off of higher amounts north and west. Areas in the Winter Storm Warning shown in the map above may see anywhere from 5-8 inches of snow. Stay tuned!  Travel will be hazardous for many over the next 48 hours so drive with caution.
Looking ahead, Saturday looks nice and sunny with highs in the upper 40s.