This is an archived article and the information in the article may be outdated. Please look at the time stamp on the story to see when it was last updated.
INDIANAPOLIS, Ind. --A Winter Weather Advisory is in effect until Noon Sunday for central Indiana as we are expecting more freezing rain (ice), sleet and snow. Travel will become especially dangerous tonight.  Travel is discouraged.
Air temperatures are below freezing at 11:40 p.m. Moisture will continue to re-freeze on non-treated roads. Freezing drizzle is likely tonight. Ice accumulations of up to 0.10 inches is possible.  Models show a couple hundredths inches of ice in the Indy metro. However, just a little bit of ice ( a couple of hundredths inches) can be dangerous, much like we saw last night. A transition to snow looks to take place after midnight.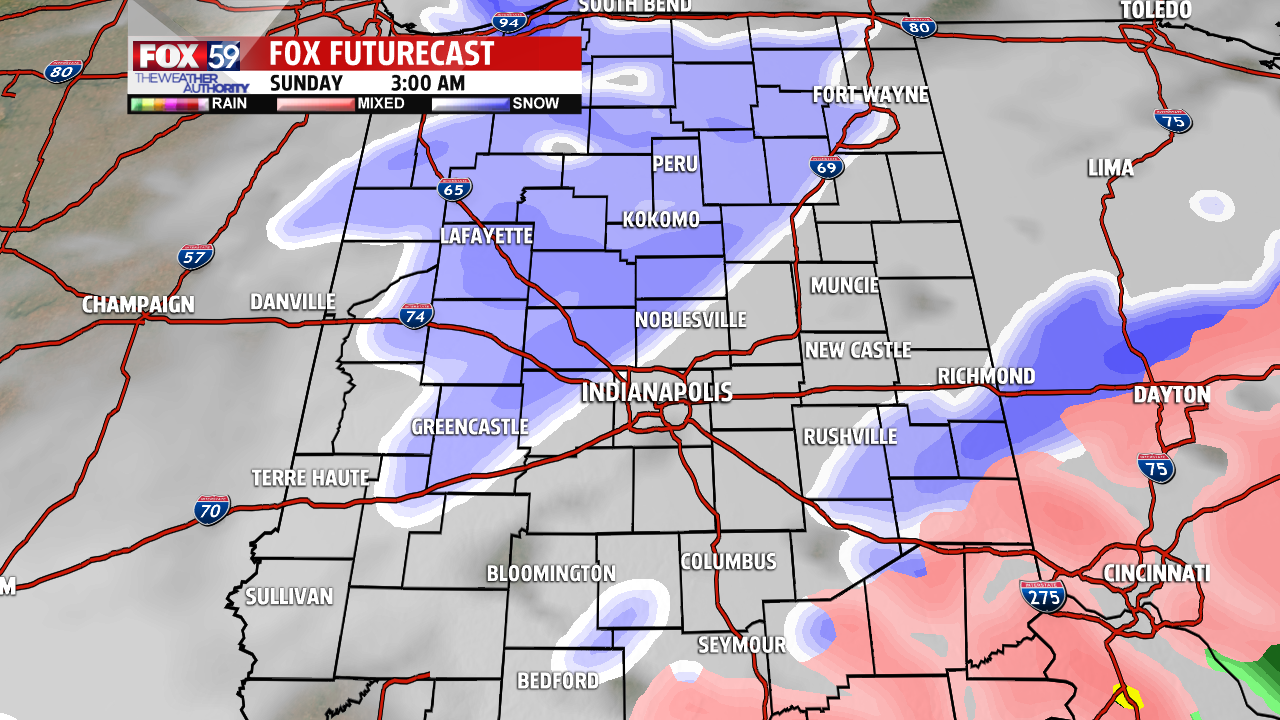 Snow will continue from about midnight into the day on Sunday. Expect anywhere from a dusting to 0.50 inches of snow with isolated higher totals of 1 inch.
Light snow will continue into Sunday morning and begin tapering through the day. Check travel maps in the morning for the latest road conditions. Whatever moisture is out there will not melt as temperatures continue to fall through the day on Sunday. We'll start out in the upper teens and fall to single digits by evening. Winds will also be gusting to 25 and 30 mph tonight through early Sunday which will put wind chills down below zero for many.
Check with Fox 59 for more updates throughout the evening! --Danielle Dozier